Wang Center Research Grants
The Wang Center Research Grant Program is designed to support students, faculty, and faculty-student teams that seek to conduct original research in an international setting. Consideration is also given to proposals seeking to conduct research within the United States on topics that underscore the connection of the local and the global on issues of diversity, social justice and sustainability. Proposals are reviewed by the Global Education Committee for recommendation to the Executive Director of the Wang Center for final approval by the Provost. All awards are administered through the Wang Center.
Congrats to our 2018-2019 grant recipients!
Students:
Christina Easley, "The Relationship between Advocacy Networks and Defensoras in Oaxaca City" in Oaxaca, Mexico
Faculty:
Agnes Choi, "Water and Wine in Ancient Greece : Identity Formation in the Rituals of the Earliest Christians" in Athens, Greece
Anna Leon-Guerrero and Ann Kelleher, "Community Facilitators, Dialogue and Peace Building in Northern Ireland" in Belfast, Northern Ireland
Mark Mulder, "Capacity building in Spanish language" in Oaxaca, Mexico
Adela Ramos, "Hospitable Species: Hosts, Guests, and Strangers in the British Novel, 1720-1830" in London and Chawton, England
Jennifer Spence, "Women's Work  in the Face of Globalization: The Life History of a Brazilian Entrepreneur" in Portel, Brazil
Student-Faculty Teams:
Jordan Levy with Sandra Estrada, "Para Seguir Adelante: Livelihood Strategies, Transnational Ambitions, and the Agency of Honduran and Salvadoran Migrants in the Pacific Northwest" in Seattle, Tacoma, Olympia, and Portland
Heidi Schutz with Rebecca Frampton, "Variation in sexual dimorphism  of three spine stickleback fish: Where sex and ecology collide" in Bamfield, BC, Canada
Giovanna Urdangarain with Riley Dolan, "Jewish Uruguayan Memories at the Crossroads of Childhood and Old Age" in Montevideo, Uruguay
Janet Weiss with Emily Johnson, "Building Capacity for Access to Information Technology Elementary Classrooms in Namibia" in Windhoek, Namibia
Robert Wells with Siobhan Chachere, Mackenzie Cooper, Julia Grosvenor, Helen Smith; "Broken Cycle" in Western Washington State; Spokane, WA; Vancouver, BC, Canada; Portland, OR; Washington, DC; Laredo, TX; New York, NY
Eligibility and Criteria
All grants awarded in spring 2018 are for activities to be carried out between June 1, 2018, and May 31, 2019. Seniors graduating in December 2018 must complete their projects by the end of January 2018. Students graduating before December 2018 are not eligible for student grants or student/faculty grants. Grant projects cannot be undertaken in any location(s) designated by the U.S. State Department as having a "travel warning" (http://travel.state.gov/).
Proposals are accepted from full-time PLU undergraduates and graduate students for advanced research and experiential learning in a global context. The grant monies are available for projects that contribute to the individual's educational experience in ways not available through traditional study away programs. These grants are intended to support supplementary travel expenses for capstone research, independent internships, service learning projects, or other independent projects. The grants may not be used to supplement the cost of traditional study away expenses or for projects and internships that earn academic credit. Up to four student grants are awarded annually for amounts up to $2500.
All full time tenured and tenure-track faculty and long-term visiting faculty members at PLU are welcome to apply. Individual faculty may apply for up to $3,300 to support research conducted internationally. Proposals are strongly encouraged from faculty intending to conduct research in locations where they have had prior experience.
Grant proposals are also invited from student-faculty teams and may receive awards in the range of $5,000 – $7,500. All full time tenured and tenure-track faculty and long-term visiting faculty members at PLU are welcome to apply. Preference will be given to student-faculty teams who have not previously received Wang Center grant support; however, student-faculty teams engaged in on-going research may apply for a second grant. Proposals are strongly encouraged from teams intending to conduct research in locations where the student(s) and/or the faculty have had prior experience.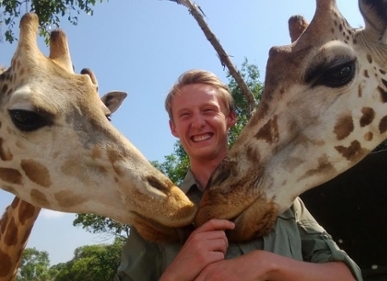 Application will include:
Project abstract (75 words or less)
Narrative description of the proposed project (Individual student and individual faculty narratives should be limited to 1000-1500 words. Student-Faculty team narratives should be limited to 1500-2500 words)
Budget of estimated expenses (NOTE: Any additional sources of funding should be specified)
Current resume (students) or CV (faculty)
Letter of support from a faculty member and the approval of the department chair (students)
Letter of support from the department chair or dean of the faculty leader (student-faculty teams)
Approval of department chair and dean (individual faculty and student-faculty teams)
Building on Global Experiences at Home
After researching artist collectives in Oaxaca, Mexico through a Wang Center Research Grant, Saiyare Refaei put her experience to work here in our Parkland community. Saiyare saw the potential for uniting communities through public art and founded the Parkland Community Mural Project.
Past Wang Grant Recipients
Browse past student, faculty and student-faculty research projects.
Student Projects
Michael Diambri
Riley Dolan
Faculty
Wendy Call
Nathalie op de Beeck
Shannon Seidel
Student-Faculty Teams
Heidi McLaughlin with Alannah Smith
Robert Wells with Rachel Lovrovich, Joshua Wiersma, Julia Grosvenor, and Mackenzie Cooper
Student Projects
Laura Hillis
Ellie Lapp
Matt Macfarlane
Faculty
Susane Crawford-O'Brien
Ronald Gerhardstein
Gina Hames
Linda Miller
Student-Faculty Teams
Heidi Schutz with Crystal Asplund
Vidya Thirumurthy with Amanda Hartley
Robert Wells with Christopher Boettcher, Rachel Lovrovich, Kelly Lavelle, and John Struzenberg
Student Projects
Nate Hansen
Emily Holt
Courtney Lee
Jennifer Shockley
Martha Spieker
Faculty
Brenda Llewellyn Ihssen
Paul Manfredi
Student-Faculty Teams
Robert Wells with Natalie DeFord, Evan Heringer, Jasper Sortun and Grace Takehara
Student Projects
Meg Dolde
Kelly Hall
Daniel Wikstrom
Faculty
William Teska
Giovanna Urdangarain
Dean Waldow
Leihua Weng
Student-Faculty Teams
Robert Wells with Olivia Ash, Amanda Brasgalla and Taylor Lunka
Student Projects
Emily Bishop, Echoing Thresholds: Poetry and Culture in the UK
Shannon Burlingame, Researching APPO Protests of 2006
Seanna Hewitt, Analysis of Water-Related Issues in the Rio Verde-Atoyac Watershed of Oaxaca
Saiyare Refaei, Research on the Role of NAFTA on Oaxacan Artist Collectives for Social Justice
Karina Sandoval, Researching the Role that Social Development Organizations have on Mixteco-speaking Children
Faculty Projects
Bradford Andrews, Studying the Mesoamerican Bipolar Stone Tool Technology: Gaining Insights for Interpreting Artifacts from Aztec Calixtlahuaca
Heather Mathews, After Multiculturalism: Identify, Integration and Contemporary Art in Germany
Donna Poppe, Recording Songs of Children in Egypt
Teru Toyokawa, Developmental Demands and Transition to Adulthood in Thailand
Student-Faculty Projects
Charles Bergman and Nevis Granum, Exposing the Relations between Legal and Illegal Wildlife Trafficking
Ami Shah and Jared Wright, Neoliberal Development? The Effects of NAFTA on Local Livelihoods in Sothern Mexico
Robert Wells, Haley Huntington, Kortney Scroger, Valery Jorgenson and Katherine Bauman, Tapped Out: Unearthing the Global Water Crisis
Student Projects
Faculty Projects
Lisa Marcus, Finding Zlata Jampolski: Nostalgia and Jewish-American Self Construction
Student-Faculty Projects
Joanne Lisosky, Paul Dodson, Julianne Rose and Katie Baumann, Media Lab: Fear and Islamophobia
Student Projects
Mycal Ford, Chinese Citizenship and Inter-Ethnic Relations
Brett Rousseau, Colony Collapse Disorder and the Honey Bee
Student-Faculty Projects
Paul Manfredi and Leif Nordquist, Chai-na: Documenting the End of the Blackbridge Art Village
Claire Todd and Matthew Heglund, Glacial History and Climate Change in Northern Bolivia
Robert Wells, Katie Scaff and Jacob Ooley, Riding the Rails: Connecting Cascadia
Student Projects
Holly Borroff, Music and Identity: Exploring Music Education in Oaxaca, Mexico
Reed Ojala-Barbour, Comparisons of the Diversity of Small Mammals Between Pristine and Disturbed High Andean Forests in Ecuador
Crystal Swetz, Dating and Marriage Norms and Preferences Among Chinese College Students
Faculty Projects
Joanne Lisosky, War on Words: Protection of Journalists in Conflict
Student-Faculty Projects
Adam Cathcart and Matthew Anderson, East German-Chinese Cultural Relations in the Cold War
Amy Grinsteiner and Andrew D'Antonio, Music as a Hub in the London Community
Barbara Temple-Thurston and Rae-Ann Barras,Using Culture to Shape Environmental Attitudes and Activism
Robert Wells, Elizabeth Herzfeldt-Kamprath, Kari Plog, Lorna Rodriguez,Oil Literacy
Student Projects
Austin Goble, Exploratory Research of Organic Farms in Turkey
Jessica Lupton, A community's Response to a Government's Neglect: Researching Educational and Community Development in the Esmeraldas Province
Sarah Sandgren, Domestic and International Policy in Ecuador: Following the Government in the First Year, Post-Election
Melissa Severson-Hampton, Proponents of Change: Norway's Shifting Perspectives on Language
Faculty Projects
Amy Beegle, Afro-Peruvian Jazz Performance and Transmission in Peru
Peter Davis, A Field-Based Geologic Investigation of Panama's Dulling Subduction Zones
Steven Thomson, "Children of the Village": On-going Research on Ethnicity, Community Development and Regional History in Coastal Gambia
Student Projects
Matthew Ferraro, Islam and Morocco's Political Identity
Elisia Howard, Humanity in Action, Independent Fellowship
Jessica Lee, Morocco: Functional Art and Culture
JacobTaylor-Mosquera, Promoting Literacy in a Predominately Afro-Ecuadorian Community
Faculty Projects
Kathlyn Breazeale, "Witches," Nature, and Religious Imagination: The Sámi of Scandinavia & Spiritual Baptists of Trinidad and Tobago
Adam Cathcart, War Mobilization in the Sino-North Korean Borderlands, 1945-1953
Teresa Ciabattari, Race, Colonialism, and Tourism: Attitudes towards Tourism and Tourists in Tobago
Student-Faculty Projects
Charles Bergman, Wildlife Trafficking in Ecuador
Claire Todd, Glacial History and Climate Change in Southern Peru
Robert Wells, Shannon Schrecengost, Julie Olds and Melissa Campbell, Dangers Within: Canada, the U.S. and Cross-Border Crime