Wang Center for Global Education
Wang Center Research Grants
The Wang Center Research Grant Program is designed to support students, faculty, and faculty-student teams that seek to conduct original research in an international setting. Consideration is also given to proposals seeking to conduct research within the United States on topics that underscore the connection of the local and the global on issues of diversity, social justice and sustainability. Proposals are reviewed by the Global Education Committee for recommendation to the Executive Director of the Wang Center for final approval by the Provost. All awards are administered through the Wang Center.

Congrats to our 2016-2017 grant recipients!
Students:
Laura Hillis, Uranium Mines Consultation in Saskatchewan, Canada
Ellie Lapp, Globization, Tourism & Agency in the Lives of Zapotec Women Weavers in Oaxaca, Mexico
Matthew Macfarlane, Economics Capstone Research (tax documents) in Abruzzo, Italy
Faculty:
Suzanne Crawford-O'Brien, Holy Wells & Sacred Sights in the Republic of Ireland in County Kerry, Clare, Limerick, Cork & Waterford, Ireland
Ronald Gerhardstein, International Partnership & Cross-Cultural Learning Through Instrumental Music Education in Tamana, Japan
Gina Hames, You Are What You Drink: A Cultural History of How Alcohol Defines Us in Brussels, Belgium & Reims, France
Linda Miller, Handbells & Handchimes in British Music Education in England
Student-Faculty Teams:
Heidi Schutz with Crystal Aspulnd, Sexual Dimorphism in Three-Spine Sticklebacks in Vancouver Island, BC & Calgary AB
Vidya Thirumurthy with Amanda Hartley, Mathematical Understanding in Young Children – A Rwandan Study in Kigila, Rwanda
Robert Wells with Christopher Boettcher, Rachel Lovrovich, Kelly Lavelle, John Struzenberg; North America's Rivers: Ignored and Neglected in Oregon, Washington,Eastern & Western Canada, US mid-Atlantic & US Northeast
Eligibility and Criteria
All grants awarded in spring 2017 are for activities to be carried out between June 1, 2017, and May 31, 2018. Seniors graduating in December 2017 must complete their projects by the end of January 2018. Students graduating before December 2017 are not eligible for student grants or student/faculty grants. Grant projects cannot be undertaken in any location(s) designated by the U.S. State Department as having a "travel warning" (http://travel.state.gov/).
Proposals are accepted from full-time PLU undergraduates and graduate students for advanced research and experiential learning in a global context. The grant monies are available for projects that contribute to the individual's educational experience in ways not available through traditional study away programs. These grants are intended to support supplementary travel expenses for capstone research, independent internships, service learning projects, or other independent projects. The grants may not be used to supplement the cost of traditional study away expenses or for projects and internships that earn academic credit. Up to four student grants are awarded annually for amounts up to $2500.
All full time tenured and tenure-track faculty and long-term visiting faculty members at PLU are welcome to apply. Individual faculty may apply for up to $3,300 to support research conducted internationally. Proposals are strongly encouraged from faculty intending to conduct research in locations where they have had prior experience.
Grant proposals are also invited from student-faculty teams and may receive awards in the range of $5,000 – $7,500. All full time tenured and tenure-track faculty and long-term visiting faculty members at PLU are welcome to apply. Preference will be given to student-faculty teams who have not previously received Wang Center grant support; however, student-faculty teams engaged in on-going research may apply for a second grant. Proposals are strongly encouraged from teams intending to conduct research in locations where the student(s) and/or the faculty have had prior experience.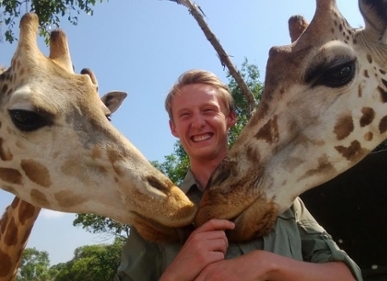 Deadline April 3, 2017
Application will include:
Project abstract (75 words or less)
Narrative description of the proposed project (Individual student and individual faculty narratives should be limited to 1000-1500 words. Student-Faculty team narratives should be limited to 1500-2500 words)
Budget of estimated expenses (NOTE: Any additional sources of funding should be specified)
Current resume (students) or CV (faculty)
Letter of support from a faculty member and the approval of the department chair (students)
Letter of support from the department chair or dean of the faculty leader (student-faculty teams)
Approval of department chair and dean (individual faculty)
Building on Global Experiences at Home
After researching artist collectives in Oaxaca, Mexico through a Wang Center Research Grant, Saiyare Refaei put her experience to work here in our Parkland community. Saiyare saw the potential for uniting communities through public art and founded the Parkland Community Mural Project.
Past Wang Grant Recipients
Browse past student, faculty and student-faculty research projects.