A Semester in London
Junior Rachel Diebel firs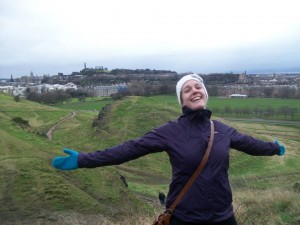 t remembers hearing about the AHA London program during a Study Away 101. Intrigued, she attended an information session about the AHA program and knew it was the perfect fit for her. As an English Literature major minoring in both Printing and Publishing Arts and Communications, the Humanities-focused academics of AHA London were exactly what she was looking for in a study away experience, "There were so many things that made it the perfect program for me" Rachel explained.
Spring Semester 2014 finally arrived and Rachel, a sophomore at the time, found herself in the idyllic city of London. She enrolled in classes on Shakespeare, modern Britain, and even worked as an editorial intern. As important as they are, academics aren't the only aspect to studying away. One thing that Rachel misses most was the city itself, "I'm madly in love with London. I loved that my home stay was in the suburbs, so I could get away from the crazy hustle and bustle when I wanted to, but I also loved just walking around the city. It's impossible to run out of things to do in London. It's so full of life and people from all different walks of life."
One big adjustment for many students studying away is to find a place within the community of their host country. This, however, was not a problem for Rachel and she owes this feeling of belonging to her homestay family as well as her internship, "I met a lot of people through my host parents and sisters. I was also lucky that I was working an internship while I was there, which let me make connections to people outside of my homestay and really helped me to get ingrained in the typical Londoner city life. "
When asked about her most memorable experience from her time away, Rachel had a hard time picking her favorite (there are just so many!). She eventually landed on a memory from a trip to Scotland, "About six of us decided to climb Arthur's Seat, an inactive volcano. It started raining on our way up and by the time we got to the top it was a full-blown storm and we practically had to crawl to make it the last few meters. None of us were wearing appropriate hiking clothes because it didn't look that hard from the base. We made it to the top and got a glorious view of Edinburgh as our reward for being wet, cold, and muddy before we had to slip and slide back down the mountain to our hostel. It was incredible fun."
Aside from traveling within England and to other parts of the UK, Rachel was fortunate enough to travel to other countries in mainland Europe as well. She was able to visit friends on the Granada program in Spain during her spring break and after her semester in London was over, she spent a couple of weeks with friends in Italy.
It's clear from the way that Rachel describes her semester away that she misses London with every fiber of her being. Although her time in London has ended, she walked away from it a much more confident person. From booking plane tickets to navigating the maze of a city's transportation system, Rachel will be forever grateful to her study away experience for molding her into the independent person that she is today.
-Article written by Emma DaFoe, 2014/2015 Sojourner Advocate