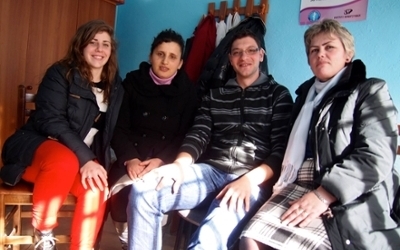 PLU Class of 2011

Anthropology and Hispanic Studies Double Major

Now serving as a Peace Corps Volunteer in Peshkopi, Albania
My name is Allison Mackin and I graduated from PLU in 2011 with a double major in Anthropology and Hispanic Studies. While I was attending PLU, I had the opportunity to study away twice, once for a semester in Granada, Spain and once for J-term in Quito, Ecuador. Although both were language immersion programs, both were experiences far beyond simply improving my Spanish. I learned about history, art, culture, and experienced life from a different perspective. There is no doubt in my mind that my time in Ecuador and Spain, and my overall global education I received from PLU led me to where I am now, Albania. Currently I am serving as a Peace Corps Volunteer in small town tucked away in the northern mountains of Peshkopi, Albania. I work as a community health educator for the Regional Department of Public Health. Together with my Albanian coworkers and other volunteers we give presentations and present activities for a variety of health related topics. Some of these projects include: prenatal care classes, stress and depression groups, health fairs, anti-smoking lessons, and cancer awareness and prevention seminars. But beyond health projects I have also worked on a handful of secondary projects such as English teaching, a women's empowerment group, and a girl's leadership camp. I also have more or less learned the very unique language of Albania, learned the history of this once communist country, mastered my knitting skills, and learned that Turkish toilets are healthier than sitting toilets. The end of my two year service is coming soon and it is a bittersweet end. I will miss the people I have shared the last two years of my life with and miss the beautiful places I have seen but I look forward to where my life is taking me next!