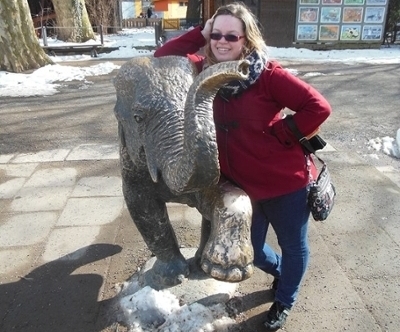 PLU Class of 2011

Graphic Design Major

Completed a Marketing Internship in London

Now working at the LeMay Car Museum in Tacoma
First of all, I'm a third generation Lute and I attended PLU with the clear determination to study away. My mom went to London while a student at PLU, and I viewed study away as something you just do. I'm even quoted in a Mast article about the study away fair from my freshman year in 2008.
I studied away twice while at PLU: first in 2009, I took a J-term class to England, Germany and Greece to study philosophy. The following year, I spent spring semester of 2010 studying at AHA in London. After both of these experiences, I sat on a study away panel for prospective students and answered questions about the programs and experiences available at PLU.
I graduated from PLU in 2011 with a BFA in graphic design, and started at the Savannah College of Art and Design (SCAD) in Savannah, Georgia that fall.
SCAD has campuses world-wide, in Savannah and Atlanta, GA, Lacoste, France and Hong Kong, not to mention a wide array of online programs. Students do study away at SCAD, but almost exclusively at SCAD's international campuses.
I came in to the Arts Administration master's program, which is offered online, in Savannah, and in Atlanta only. We had international students taking the classes in person or online from other countries, but nobody actively seeking study-away options. The program had just recently undergone a restructuring, and students were now required to complete an internship as part of our degree requirements. I immediately saw this as an opportunity to return to London.
I sought out international internship programs that could help place me in an internship and provide me with housing. I met with my academic adviser and financial adviser to learn what was needed on SCAD's end. Unlike at PLU, I had to save up my loan money from SCAD and pay my internship program directly, rather than pay through the school. It took a lot of planning and dedication on my end, but I made it happen.
Last year, I spent my winter quarter in London working as a digital marketing intern for FastWeb Media. I switched to online status at SCAD and took my classes online, ensuring I didn't fall behind my projected graduation track. That experience inspired me to continue online courses so I could complete my final capstone project here in Parkland, where I hosted a juried art exhibit hosted at PLU featuring artwork from the Franklin Pierce School District high schools (I had attended Franklin Pierce High School myself). I participated in a Grad Salon presentation, where grad students present their capstone projects to other students. I was the first student to do this off-site, as I sat on my back patio in Parkland and talked about my experience in London and my work here.
When I returned to Savannah in June for my graduation last summer, the dean of my school was raving about what I had accomplished by taking advantage of SCAD's technological resources. He was encouraging other students to look at internships outside of Savannah, following my example. A student who started in my program while I was in London met with me and asked for advice, as she was planning her own internship in Savannah that summer.
I'm back in Parkland now. My juried art exhibition that I ran at PLU last summer has grown (it's called PY // Art from Parkland's Youth and has a Facebook page if you're interested). I ran a summer camp last summer as part of the PY art program, teaching local teenagers a variety of art forms. Then I got a job as the Marketing & Communications Coordinator at LeMay – America's Car Museum in downtown Tacoma. I don't get to travel as much, and it's not part of my work. But all of my study away experiences provided opportunities to study the art I've always been passionate about, and have definitely shaped my view of the world and my goals.
PY // Art from Parkland's Youth is now a program offered by Discover Parkland, a local non-profit committed to uplifting the Parkland community. I am planning the second juried exhibition at PLU this spring. I want to encourage growth within the community and PLU through art. I want the local kids in my school district to see the access they have to all the same opportunities I had.
And I definitely still travel — I'm heading to Mexico with my brother (in his senior year at PLU) for his spring break next month. I'm planning a trip to Europe next summer to visit my friends there. And hopefully, as I grow within my career I'll have the opportunity to work for a British company and move to London.