A Semester in Nantes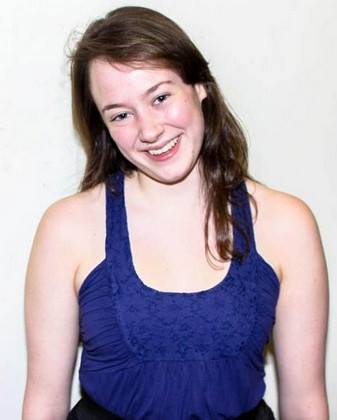 Sarah Hubert, a BA Acting/Directing and Music double major with a minor in French, studied away in Nantes, France through IES in Spring of 2014. A sophomore at the time, Sarah describes how she found her program. After working with Carmen in the Wang Center, she ultimately chose to study in Nantes because it was an immersive language program in a smaller urban area with the opportunity to live with a host family, all of which equates to less English. The program also featured a few theatre classes, so Sarah could continue earning credits towards her major while improving her French.
The specific focus of Sarah's program was language immersion, a program in which students were expected to speak entirely in French with other students in their program, and preferably for all four months. Sarah took classes on French Romantic Literature, Theatre Performance, Art History, and Sociology of Art. She also taught four English classes to middle and high schoolers through an internship program.  Because her program included a homestay experience, Sarah was able to interact with many French locals through her host family, an IES conversation table, and a class comprised of entirely French students. Sarah became very close to two French students who taught her what it is like to be a young French citizen.
Sarah's program took place in Nantes, a city a few hours southwest of Paris. She tells me that although Nantes has a relatively large population of about 285,000 people, most inhabitants live in the suburbs so the city itself is not very large. However, Nantes is very rich in history. It was one of the major slave ports of Europe in the 17th and 18th centuries, was occupied by the Germans and bombed during WWII, and is the birthplace of many notable people including author Jules Verne and filmmaker Jacques Demy. Sarah remembers that the nightlife in Nantes was excellent and it was a beautiful city to walk through during her time off. While abroad, Sarah was also able to travel a great deal through France. She visited many small towns, as well as the beaches of Normandy and Paris. She also visited students on the PLU Oxford program, London, Rome, Bergen, Cadiz, and Sevilla.
Looking back on her experience abroad, Sarah remembers her favorite memory from her experience. She went with her friend Jérémy and two other friends to see a giant elephant robot, a remnant of an exhibition in the 20th century. The day did not appear promising. The weather was very miserable, Sarah had the flu, and the buses weren't running, but it was the day that her friendships with the French students really solidified. It was a proud moment for her to make friends in another language in a country that was not her own. Sarah misses simple things from Nantes, especially sitting on the couch with her host dad, watching American movies dubbed in France. Sarah describes, "We did this a few times a week and it was really fun; he would tease me incessantly and I would try not to laugh while watching Tom Cruise's mouth spit French." Sarah also misses the general feeling of being challenged on a daily basis, but knowing that she had a support system through her host family. Sarah says that the most valuable lesson that she learned while abroad was that doing things that scare and challenge you are extremely valuable. She learned that she is more capable and independent than she ever thought she could be.
-Article written by Maylen Anthony, 2014/2015 Sojourner Advocate