Summer Term 2021
Given current global circumstances and after careful consideration, January Term 2021 programs have been rescheduled to Summer 2021. Some J-Term 2021 programs have been canceled. Some Summer Term courses could potentially reopen to accept new applications (rolling admission, space available basis only) which would be announced on the Summer Term 2021 website and on Wang Center social media accounts. (Links in the lower left side column)
Approved Programs
Some Approved programs offer study away opportunities during the summer. Because programs may vary, be sure to check internal application due dates on the Approved program's webpage. Alert the study away advisor of any due dates prior to PLU's summer application deadline. Please note that not all financial aid covers summer coursework; contact Student Financial Services for information.
Important note: Students can apply to study away in summer through these providers that we partner with. However, not all programs offered by the provider may necessarily be on our list of Approved programs for PLU students. To see if a program is Approved, search for programs here.
Other (Funded) Summer Opportunities
Wang Research Grants
Students who have had study away and cross-cultural experiences are encouraged to apply for funding to conduct an international independent research project. Find out more information here.
Peace Scholars Program
Two PLU students are selected each year to participate in this intensive summer program centered on peacebuilding, conflict and war. Find out more information here.
Critical Language Scholarship
The Critical Language Scholarship (CLS) Program is a summer study abroad opportunity for American college and university students to learn languages essential to America's engagement with the world. The
Wang Center Study Away Advisor
can support you in the application process; reach out if you're interested in learning more.
US-UK Fulbright Commission
First and second year students are eligible to apply for a full-ride scholarship for summer study in the United Kingdom through the US-UK Fulbright Commission. Find out more information here.
PPIA Junior Summer Institute
A national fellowship program that prepares students for an advanced degree and career in influential public service roles. Open to rising senior students with appropriate quantitative, analytical, and communication skills. Find out more information here.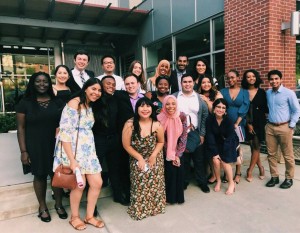 "The PPIA experience was really life changing for me and has already opened up a ton of doors. It prepares you for graduate school in public service fields, introduces you to a great cohort of students who will be future leaders in their fields, and is a ton of fun as well. I highly recommend to anyone thinking about applying!"
Riley Dolan
Class of 2019