Top Ten Syllabus Suggestions
August 25, 2015
by Dana Bodewes, Instructional Designer
A new semester is about to begin and that means it is time to update your course syllabi (or syllabuses, if you prefer).  There isn't one specific syllabus format endorsed at Pacific Lutheran University, so I have created an outline of topics I would recommend for anyone interested in providing a comprehensive overview of key topics.  
Syllabus Topics
1. Purpose and Structure of Course:  In this introductory section, you can provide an overview of the course structure and main topics.  
2. Required Instructional Materials: Especially for courses with lots of resources, this section explains what materials will be used in the course, how to obtain the materials, and what the expectations are for different items.
3. Prerequisite Knowledge and Technical Skills: Even if your course requires no prior knowledge or skills, it is important to state the expectations you have for students coming into your course.
4. Course Learning Objectives and PLU Integrated Learning Objectives: Your course learning objectives clarify the overall knowledge and skills students should acquire by the end of the course.  It is also a good idea to specify ILO's that your course supports.
5. Class Expectations: It is critical for instructors to explicitly state expectations for student behavior, communication, attendance, participation, and other policies important for the course.
6. Course Grading Policies: One way to increase responsibility and decrease anxiety is to provide an overview of graded activities at the beginning of the semester.  This section could include a list of all activities, point values, and due dates in addition to information on how work will be graded.
7. Academic Integrity: It is a good idea to include a statement about PLU's expectations for academic integrity, which can be found in both the faculty and student handbooks.
8. Student Services and Policies: This is a syllabus section that is often absent or assumed covered elsewhere.  My suggestion is to list key student services and policies along with brief statements and links to relevant websites.
9. Registrar Deadlines: The Registrar's office recommends that faculty include key dates in their syllabus, most notably the last days to add/drop and withdraw from class.
10. Semester Schedule: The semester schedule is one of the most important and frequently accessed sections of the syllabus.  Schedule information might include readings, assignments, assessments, activities, and lecture topics along with the mode of delivery and corresponding dates.
Next Steps
I encourage you to check out this full outline of syllabus topics along with specific resources for PLU. You are welcome to borrow and modify ideas from this outline.  If you have any suggestions for syllabus topics not included in the outline, please add them to the comment section below.  I would love your feedback and will update the document as new ideas arise.  For more syllabus advice, the Provost's website includes document with PLU policy information for course syllabi. I also encourage you attend the workshop Take Your Course from Good to Great with a Quality Check where we continue to explore elements of high quality courses.  The Chronicle of Higher Education also has a wonderful two-part article on creating a "learning syllabus" for your course. Have a wonderful semester!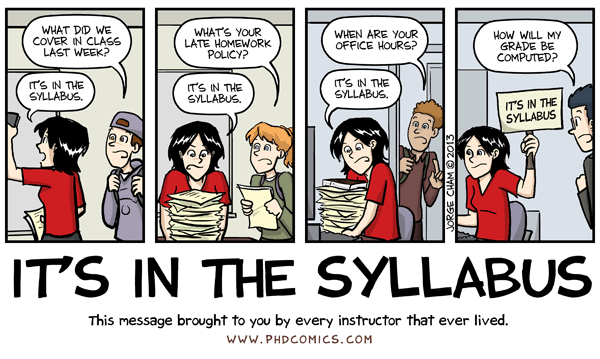 Originally posted 9/4/2014 in PLU's Instructional Technologies blog
*Note: All comments are moderated