Web Conferencing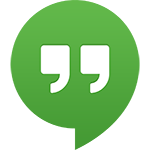 Though there are a number of web conferencing programs such as Skype and WebEx, Google Hangouts is a well-integrated component of Google Apps for Education. You can invite up to 15 people via Gmail chat or a calendar invitation. Applications within Hangouts include:
Video Chat
Screenshare
Capture
Shared Access to Google Drive Files
For more information about Google Hangouts, visit the features page. For assistance with setting up a Google Hangout, contact itech@plu.edu.