Classroom Technology
Most classrooms on campus are equipped with multimedia equipment you can use without needing to make a request to Instructional Technologies. Quick-start instructions are provided in each room to assist you in operating the equipment. And check out our Classroom Podium Video Tutorials to learn how to use the podiums.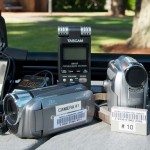 Equipment Checkout – Standard classrooms on campus come equipped with a desktop computer, projector, screen, and speakers. The Learning Spaces page has details on which equipment is installed in each room. Additional classroom equipment can be reserved for checkout and picked up at the Instructional Technologies desk in the Library. The following classroom equipment is available for checkout:
Document Camera
DVD Player
Computer Projector
Projector Screen
Laptop Computer (faculty/staff only)
iPad (faculty/staff only)
Macbook (faculty/staff only)
Wacom tablet (faculty/staff only)
Mac adapters
TurningPoint clickers
Getting Support – If you find yourself in a situation where you need help or the equipment is not working properly, call 253-535-7509 to reach our front desk and a technician will be dispatched immediately to assist in correcting the problem.
Response Time – During our normal business hours, we have student technicians at the desk who can be dispatched immediately in the event that classroom equipment is not working properly.  During normal business hours, we are committed to responding to a problem within 5 minutes of receiving a trouble call. Problems that occur outside of normal business can be submitted to the Help Desk at 253-535-7525 or online at http://www.helpdesk.plu.edu.  We will do our best to resolve after-hours problems as quickly as possible.
Faculty Statement on Learning Environments
Instructional Technologies strongly supports the spirit of the Faculty Statement on Learning Environments. Within the constraints of resources, we use this statement to develop and guide our classroom technology services and priorities.