Faculty Resources: A New Library Collection
January 20, 2016
by Dana Bodewes, Instructional Designer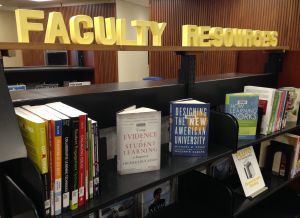 To support the professional growth of PLU faculty, a new collection of "Faculty Resources" is now available on the first floor of the library. This small but mighty collection covers a range of topics related to teaching and learning in higher education. I have assembled an online list of books in the faculty resource collection, including links to each book's library record. Here are a few books you may want to consider:
Collaborative Learning Techniques: A Handbook for College Faculty (2014) by Elizabeth Barkley, Claire Major, and Patricia Cross is a great resource for designing small group activities for higher education classrooms.
Teaching Unprepared Students: Strategies for Promoting Success and Retention in Higher Education (2008) by Kathleen Gabriel provides practical strategies for supporting students from a variety of educational backgrounds.
Best Practices for Flipping the College Classroom (2016) by Julee Waldrop and Melody Bowdon is a collection of advice and case studies, useful for faculty interested in exploring alternative ways of structuring their course.
We would like to grow the faculty resource collection to meet the needs and interests of PLU instructors. If there is a book you would like to see added to the collection, please let us know in the comment section below. Or, if you are interested in convening a book group in support of faculty development, please contact me at bodewedl@plu.edu.
*Note: All comments are moderated