2016 NWACC Award for Innovation in Instructional Technologies
December 15, 2016
Each year the Northwest Academic Computing Consortium (NWACC), a group of 33 northwest colleges and universities, sponsors an Award for Innovation in Instructional Technologies. The award recognizes faculty members and instructional technologists at member institutions for work demonstrating effective design, development, integration, and/or support of instructional technology. Award winners share proven strategies and inspire new ideas in the integration of technology with teaching and learning.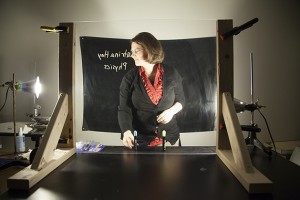 This year Jenna Stoeber (Instructional Technology Team Manager) applied for the award on behalf of PLU's Dr. Katrina Hay (Associate Professor of Physics) for her creation and use of a lightboard in a flipped classroom setting.
Recently they were notified that they have won the 2016 award, recognizing Katrina's work in using a lightboard to make engaging videos for students to prepare for her flipped classroom sessions. Jenna consulted on the creation and provided training for the video production. Checkout the video Jenna created for April's Faculty Spotlight on Katrina Hay to see for yourself.
Jenna and Katrina received the award and presented their work at a plenary session of the annual NWACC Instructional Technology Roundtable November 3 in Portland. They also received a $500 cash award.