Transition to Turnitin Feedback Studio
May 10, 2017
By Layne Nordgren

Turnitin provides originality- and plagiarism-checking for student papers and includes a set of online tools for faculty to provide in-context feedback for students. For PLU courses, Turnitin can be enabled as an option when creating a Sakai Assignment.
On June 3, 2017, PLU transitioned to the new Turnitin interface called Feedback Studio. Feedback Studio combines Turnitin Originality Reports and Grademark Tools into a single toolbar. After June 3, you'll see the new interface when you open a student's Turnitin Similarity Report from a Sakai Assignment. Your students will also experience this new interface when viewing Similarity Reports and receiving feedback.
If you use Turnitin in your courses or plan to do so in the future, read on for an overview of what to expect with this new update and how you can prepare for using the new interface.
What Changes?
Naming
Turnitin will be called Turnitin: Feedback Studio to reflect the integration of originality reports and grading functions into the same interface. Originality Reports will be renamed Similarity Reports to more accurately describe relationships between submitted papers and text matched in Turnitin database sources. And since GradeMark is no longer a separate product in Feedback Studio, its features (for providing grading feedback to students) will simply be known as Grading.
Screen Layout and Tool Location
Feedback Studio has the same tools available as in the original Turnitin interface. However Feedback Studio combines Similarity Reports and Grading Tools into a single toolbar to the right of the paper as illustrated in the image below.
Using these tools, you can:
check for originality and plagiarism
add in-context drag and drop QuickMark comments and/or text comments to the paper
record voice comments
grade papers using rubrics based on defined criteria
Consider the Feedback Studio display of the submitted paper as being made up of three layers on the screen: the student paper at the bottom, with overlays of the Grading layer in blue and/or the Similarity layer in red. Clicking the Layers tool at the top of the menu allows you to choose which of the layers to display: Grading, Similarity, or both.
Blue Grading tools include:

Inline Feedback – Click anywhere in the document or drag over text to highlight to bring up three tools for providing in-line feedback:


QuickMarks – Use a library of QuickMarks to provide common kinds of feedback (e.g., "Citation Needed" or "Weak Transition") applicable for a wide range of courses and assignments.
Bubble Comments – Add a text comment or link.
Inline Text – Add blue text comments in the document.

Feedback Summary – Record a summary voice comment or leave a summary text comment for the whole paper.
Rubrics and Grading Forms – Use Rubrics to define grading criteria and evaluate student work.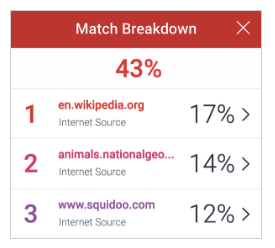 Red Similarity tools include:
Match Overview – A breakdown of all the matches that have been found, ordered by highest similarity match to lowest.
All Sources – A list of all sources by percent, showing the match in context of the source document.
Filters and Settings – Filters to exclude quotes, bibliographies, and other sources.
Excluded Sources – Option to exclude sources from the report.
The bottom two gray tools include:
Download – Options for downloading the current view, a digital receipt, or the originally submitted file.
Submission Information – Information about the submission including character and word counts.
If you've used Turnitin prior to the Feedback Studio update, you'll have access to the same tools, but will likely find the new interface more efficient and flexible for your needs.
What Stays the Same?
The Sakai integration with Turnitin via the Assignment Tool will not change. Faculty can still enable Turnitin and the same options when creating an assignment.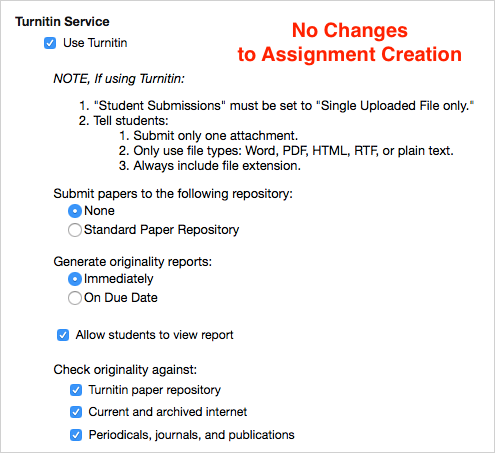 Both faculty and students will still access the Turnitin Reports via the Sakai Assignment.

There is no change to the scoring or content of the similarity reports and you will still be able to access previous Originality Reports with the new interface. Note that any grading done in Feedback Studio will not be reflected in the Sakai Assignment Grade or Gradebook unless you manually transfer the scores from Feedback Studio to Sakai.
How Can I Prepare for the Transition?
After June 3, 2017 you and your students will be viewing a different interface for Turnitin Reports. To prepare for the new Feedback Studio interface:
View key faculty help documents for the new Feedback Studio interface:
Provide your students with links to:
Have questions or concerns? Schedule a consultation or contact us for assistance at sakai@plu.edu.