Free Summer Jazz Series brings Stars-and the community-to PLU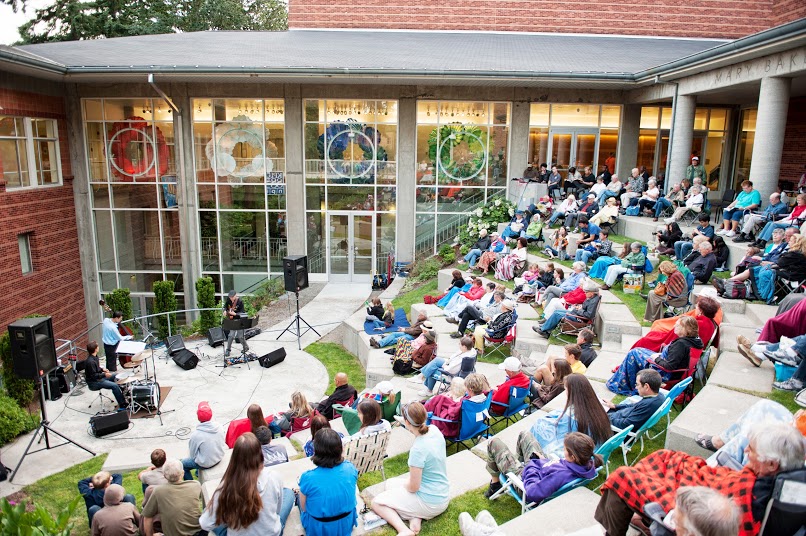 June 29, 2014
16th Annual Jazz Under the Stars Kicks Off July 10
By Sandy Deneau Dunham, PLU Marketing & Communication 
As a gift to the community—and really, to everyone who attends—the Pacific Lutheran University Department of Music kicks off its free summer concert series, Jazz Under the Stars, on July 10.
The 2014 professional concert series, now in its 16th year, focuses on the wealth of jazz talent in the Northwest, as well as nationally known performers with PLU connections.
The concerts are sponsored by the PLU Department of Music and KPLU 88.5 FM and are held at 7 p.m. Thursdays from July 10-Aug. 14 at the open-air Mary Baker Russell Amphitheatre at PLU. Guests are welcome to bring lawn chairs and picnic food (though, in the event of rain, the concerts will move indoors).
And, if you'd like even more star power after enjoying the big-name performers of July 31, Aug. 7 and Aug. 14, the PLU Physics Department will open PLU's Keck Observatory for stargazing those evenings, weather permitting.
Here's the lineup:
July 10
The Luigi LaCross Quartet
Luigi LaCross is a four-piece combo from Olympia featuring John Croarkin (flute, bass flute, harmonica, alto and soprano saxophones), Drew Gibbs (piano, hand percussion, drum kit), Phil Lawson (guitar) and Steve Luceno (string bass, seven-string guitar, vocals). The group's first CD was released in May. In performance, the band plays originals, Brazilian music (modern choros and Hermeto Pascoal tunes) and a mix of personalized jazz and pop standards.
July 17
Dmitri Matheny
Celebrated for his warm tone, soaring lyricism and masterful technique, Matheny was first introduced to jazz audiences in the 1990s as the protégé of Art Farmer and has matured into "one of the jazz world's most talented horn players" (San Francisco Chronicle). Today, he leads the Dmitri Matheny Group, an all-star ensemble featuring some of the most accomplished jazz artists in the western states.
July 24
Hilary Gardner
In 2010, acclaimed singer Hilary Gardner was chosen by the Frank Sinatra estate to appear as the live, onstage singer in Twyla Tharp's Come Fly Away. Gardner performs throughout New York City and is a frequent soloist with symphonies throughout the United States. Moby featured Gardner prominently on his 2009 release, Wait For Me.
July 31
The Rob Hutchinson Group
Hutchinson teaches music theory, orchestration, analysis, counterpoint, improvisation and composition at the University of Puget Sound. He is also a jazz bassist and organizes and appears at the Jazz in the Rotunda series at the UPS. His band, the Rob Hutchinson Group, includes Kareem Kandi on saxophone, David Deacon-Joyner on keyboards and Jacques Willis on drums and performs original compositions in the jazz/rock fusion style of groups such as Tribal Tech, Steps and Weather Report.
Aug. 7
JBLM Swingin' Sounds of Courage Big Band
A full big band with 20 members, Swingin' Sounds of Courage is one of the larger ensembles in the 56th Army Band. The band performs swing hits from the Big Band Era, including selections from greats such as Glenn Miller, Duke Ellington and Ella Fitzgerald, mixed with newer big-band charters.
Aug. 14
The Jazz Sound Trio with Special L.A. Artists Ginger Berglund & Scott Whitfield
The Jazz Sound Trio is comprised of PLU faculty members David Deacon-Joyner on piano, Clipper Anderson on bass and Mark Ivester on drums. In this performance, the trio will back Scott Whitfield, one of the world's greatest jazz trombonists, and his wife, Ginger Berglund, the newest addition to the legendary Modernaires.