New work celebrates the 500th anniversary of the Reformation
March 16, 2017
By Mollie Smith '18 and Mandi LeCompte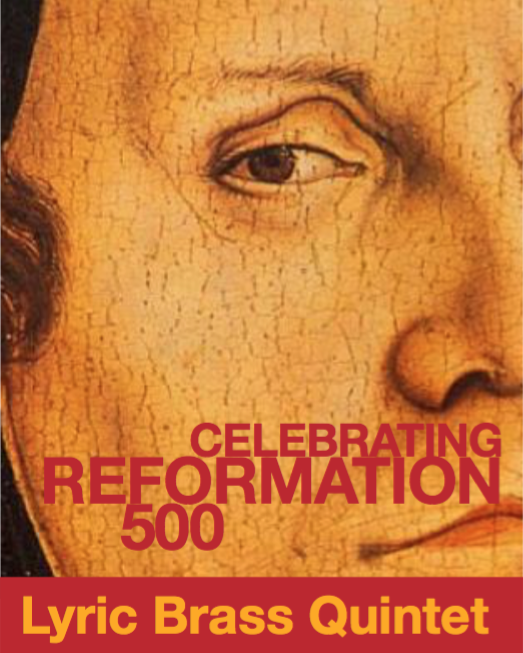 The Lyric Brass Quintet will perform "Luther, Seven Scenes for Brass Quintet" composed by PLU music professor emeritus Jerry Kracht, in commemoration of the 500th anniversary of the Reformation on Sunday, April 23, at 3 p.m. in Lagerquist Concert Hall.
"The piece is highly programmatic—that is, it is music designed to tell a story—in this case the story of Martin Luther and his journey from young law student to monk, to pilgrim, to theology professor, to critic of the Roman Church, to heretic and fugitive, and finally to founder of the Lutheran Reformation, which we celebrate around the world this year on its 500th anniversary," Kracht says. "The music is descriptive of that narrative, using both music from Luther's own time as well as music of my own composition, in a blend that ranges from Renaissance sounds to modern."
The piece is both natural for brass instruments and challenging in terms of endurance, range and dynamics. Audience members will hear loud sounds, soft melodies, traditional tonal harmony, disjunct modern harmony, and everything in between. At 25 minutes long, it is more than twice the length of an average brass piece. PLU Music Professor and Lyric Brass Quintet member Zach Lyman explains that lengthy pieces challenge a musician's endurance and stamina.
"The music changes style and tonality very frequently, which adds an additional layer of complexity as we grapple with balance, blend, melodic contour, different harmonic languages, etc.," Lyman says. "There are lots of intricate tempo shifts, and we had to talk through which member will be in charge of leading the way through each pivot point in the music."
The piece carries the tradition of mixing old and new styles using both tonal and atonal harmonies to decorate these tunes. Because the piece is designed to tell the story of Luther's life, the tone of the piece ranges from fast paced and energetic to slow and reflective.
"There are moments in the piece where you might think you're listening to a piece composed in Luther's time, and then all of a sudden the music takes a dramatic turn toward the 21st Century," Lyman says.
When asked if it was a challenge to blend old and new musical styles, Kracht explains that brass instruments were common in Germany during Luther's time which made combining musical styles feel more natural. However, this doesn't mean Kracht did not face challenges during the creation process.
"There's the writer's block, the 'where-does-it-go-from-here' conundrums, the 'why-
should-I-be-trying-this' misgivings. But one works through it all, believing that the original concept is worth the struggle," Kracht says. "In the end one has to believe that what you have created is worthy of the goal and worthy of sharing with others."
After 33 years as conductor of the University Symphony Orchestra and professor of clarinet and member of the Camas Quintet, Kracht didn't start composing until he left PLU in 2001. Presenting this piece at PLU and being part of the 500 year tradition carries sentiment.
"It feels very much like coming home, but coming home in an entirely new capacity—as a composer," Kracht remarked.
Lyman also feels that this performance carries more weight than usual.
"It's always incredibly exciting to bring a new work to life, especially when that work was written by a beloved member of the PLU music family. As musicians, we spend most of our time in our isolated world of personal practice and rehearsals. To make connections with this piece to the greater campus community is all the more special since that is really what the liberal arts, and Lutheran Higher Education, is all about."
Tickets to the April 23 concert can be purchased online, over the phone (253-535-7411) and at the door: $8 general admission, $5 senior citizen and alumni, free for PLU & 18 and younger.
The Lyric Brass Quintet is the resident faculty brass ensemble at Pacific Lutheran University. Members include Zachary Lyman and Edward Castro on trumpet, Gina Gillie on the French horn, Rebecca Good on trombone, and Paul Evans on tuba. Its members teach private lessons at PLU and are all active solo, chamber, and orchestral performers throughout the Pacific Northwest and beyond. The players enjoy performing a wide range of repertoire from the Renaissance to the twenty-first century, including several works that have been commissioned for them. In 2012, The Lyric Brass released a CD "American Music for Brass Quintet" which includes works by Gwyneth Walker, Charles Ives, David Snow, and a new work written for the group by Sy Brandon.