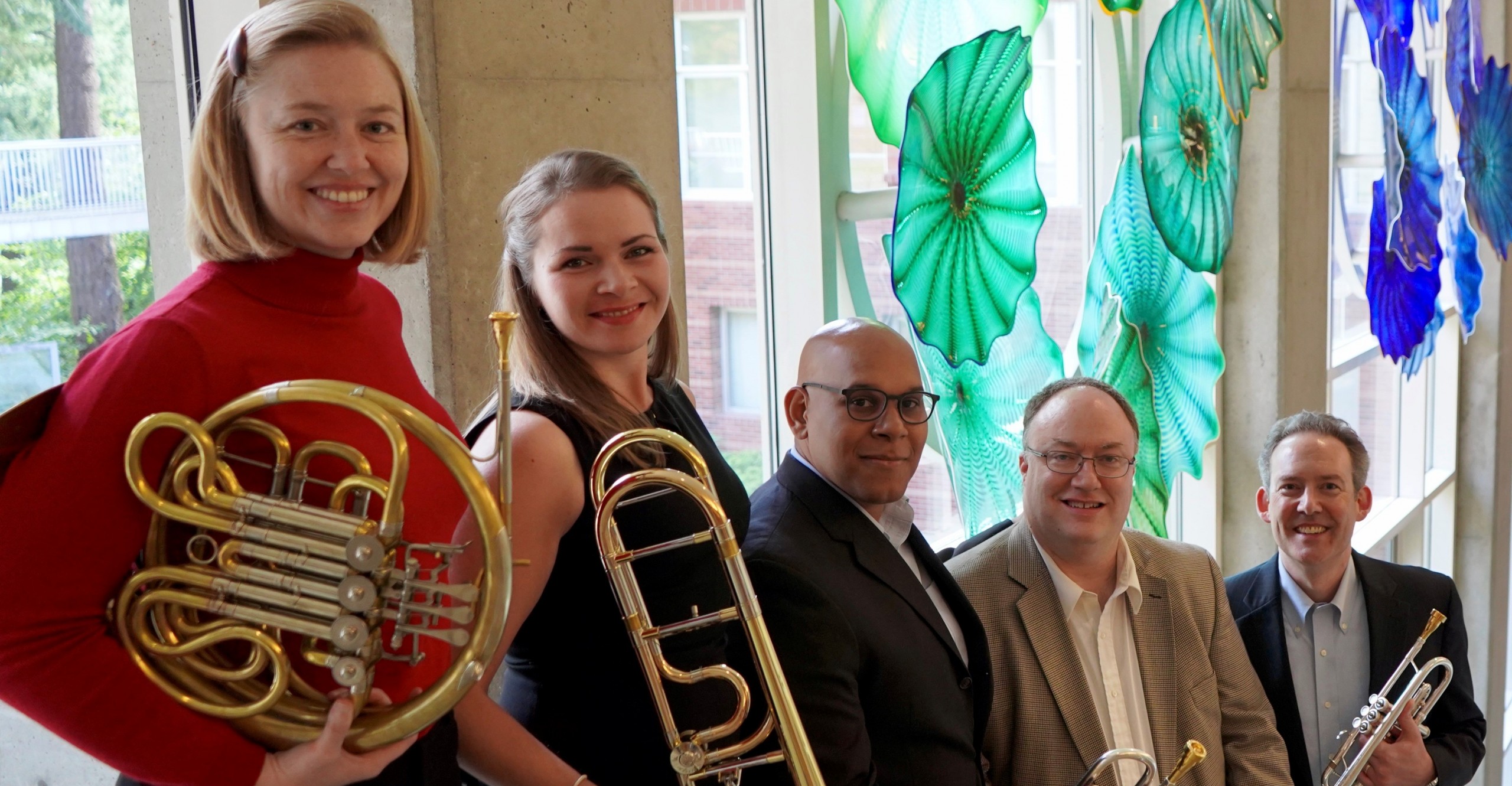 December 14, 2018
By Kate Williams '16
Outreach Manager
This week we sat down with Dr. Zachary Lyman to talk about everything from recording issues and Bach, to the new Lyric Brass CD and everyone involved in this project. Read on!
What can we find in this CD?
The CD contains 4 works by J.S. Bach, without question the most well-known Lutheran composer of all time.  The first three works are arrangements of fugues from Bach's larger work entitled "Art of the Fugue." They gradually increase in complexity.  The forth Bach work is a transcription of "My Spirit be Joyful" from one of Bach's Cantatas. We thought it would be fitting to include some music by Bach on the CD along with Dr. Jerry Kracht's new piece since they effectively bookend the history of Lutheran music over the last 300 years!  Jerry's piece was written to commemorate and celebrate the 500th year of the Reformation. It depicts the life of Martin Luther in seven movements and represents a major contribution to modern brass quintet literature. Although Jerry's work was premiered by a different bass quintet, this CD represents the world premiere recording.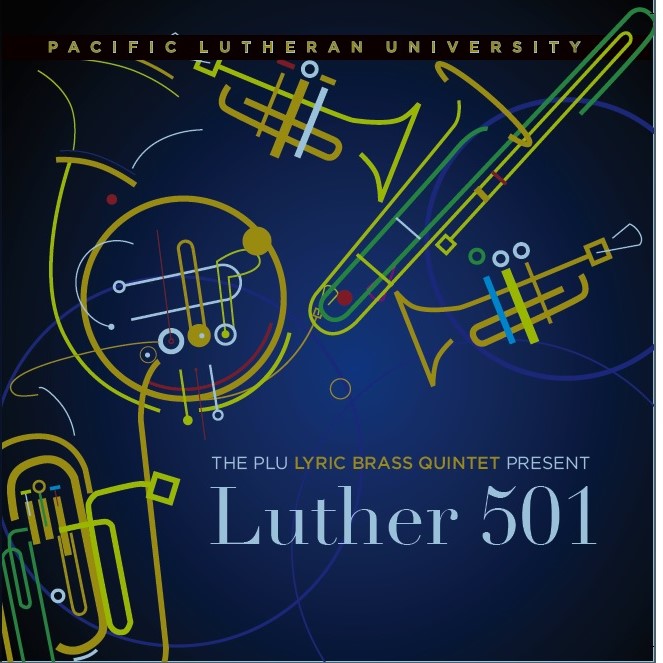 How did the opportunity for a CD come about?
Dr. Jerry Kracht wrote this piece a year or two ago and sent it to me for possible inclusion on a Lyric Brass recital.  We performed LUTHER in its entirety on one of our recitals as part of the 500th Reformation celebration. We thought it was important enough and large-scale enough to pursue a recording of the work.  I applied for, and was fortunate enough to be awarded, a Regency Advancement Award from PLU which made part of the recording possible. The remaining funding came from anonymous donations secured through the PLU Advancement Office.  I am extremely grateful that PLU was so generous in its recognition of the importance of the project and it its funding of the CD. Jerry also donated hours and hours of his time with countless details in the CDs recording, editing, and production, and the members of the Lyric Brass quintet dedicated countless hours over the summer to the rehearsal and recording process.
History of the group?
The Lyric Brass quintet is the resident faculty brass ensemble at PLU.  The group is comprised of 5 members (Zach Lyman and Edward Castro, trumpets; Gina Gillie, horn; Rebecca Ford, trombone; and Paul Evans, tuba) all of whom are on faculty at PLU.  The Lyric Brass performs two concerts each year at PLU as part of the Regency Concert Series.
What is something people wouldn't know about the recording or experience working on this CD?
The extremely challenging recording environment.  We recorded the CD at Trinity Lutheran Church right across the street from PLU (who were themselves extremely generous to let us record there!) which was a fantastic place acoustically, but we did run into lots of road/car/motorcycle noise which ruined lots of good takes.  On top of that, we just happened to record these pieces during the two hottest months of the entire summer… it was well into the 90s in an un-airconditioned church every time we recorded. We joked that perhaps we would change the name of our group to the "Ninety-Degree Brass."
Why should people grab a copy?
It's a great recording of great music.  Bach's music needs no introduction to most people, but it's unusual to hear Bach on a CD of  modern music for Brass Quintet.  It's an unusual juxtaposition, but one that works really well I think, and one that serves to enhance all of the music we've collected.  And Jerry's piece is utterly fascinating. There are sounds on this CD that have never been played by a brass quintet before, and the music is very effective.  It is extremely modern, but always informed by music from Luther's time and beyond, which is why it works so well alongside Bach.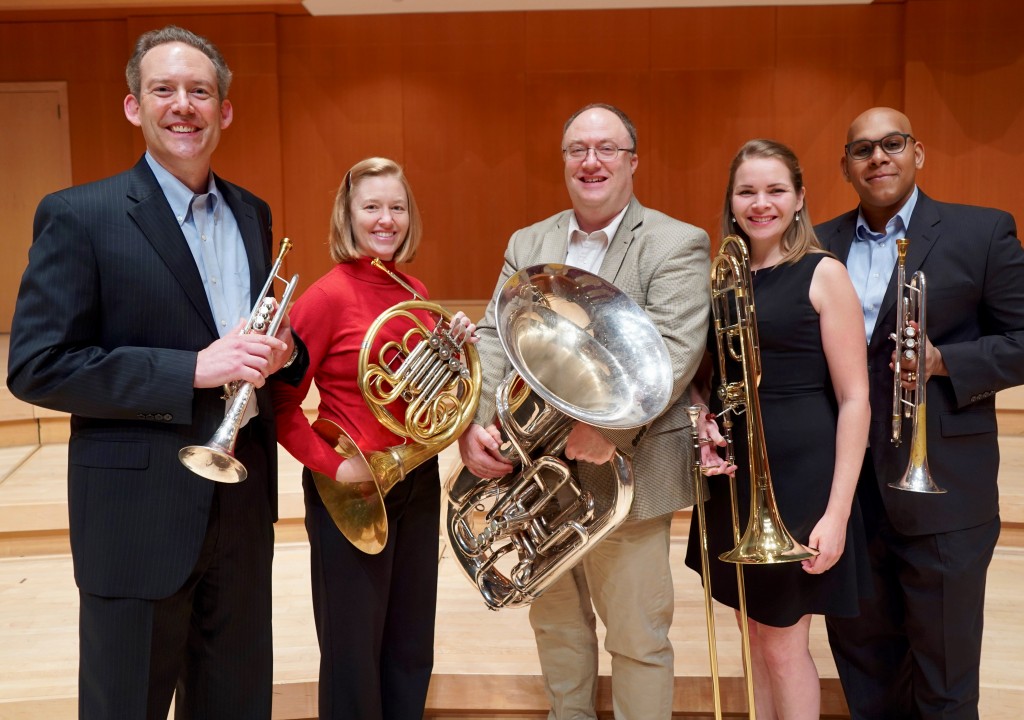 The Lyric Brass is the resident faculty brass ensemble at Pacific Lutheran University (PLU) in Tacoma, Washington.  Its members teach private lessons at PLU and are all active solo, chamber, and orchestral performers throughout the Pacific Northwest and beyond.  The players enjoy performing a wide range of repertoire from the Renaissance to the twenty-first century, including several works that have been commissioned for them.  In 2012, The Lyric Brass released a CD "American Music for Brass Quintet" which includes works by Gwyneth Walker, Charles Ives, David Snow, and a new work written for the group by Sy Brandon.  The members of the Lyric Brass get along surprisingly well with each other given the potentially volatile combination of Red Sox, Yankees, and Mariners fans.
Zachary Lyman is Associate Professor of Music at Pacific Lutheran University (PLU), where he teaches classroom music, directs the trumpet ensemble, coaches chamber music, and performs with the Lyric Brass Quintet, and was the 2017 recipient of the Faculty Excellence Award in Teaching. He holds the Doctor of Musical Arts degree in Trumpet Performance and Pedagogy from the University of Iowa where he was the recipient of the prestigious Iowa Performance Fellowship, the highest award for graduate study. Dr. Lyman received the Bachelor of Music Degree with honors from the College of Wooster and the Master of Music degree with honors and distinction in performance from the New England Conservatory of Music.
He is active as an orchestral, chamber, and solo performer and has performed with the New England Philharmonic, and the Boston Philharmonic, Cedar Rapids, and Quad Cities Symphony Orchestras. Lyman has also performed as featured soloist with the Moscow Chamber Orchestra, PLU Wind Ensemble, PLU Symphony Orchestra, The University Chorale, Choir of the West, the Tacoma Community College Orchestra, and the Tacoma Brass Band.  He plays throughout the northwest as a member of the Seattle-based Mosaic Brass Quintet. He has appeared with the Vashon Opera and Tacoma Symphony Orchestras, at the Olympic Music Festival, and is on the summer faculty at the Evergreen Music Festival.  He also serves as director of the Tacoma Young Chamber Players, the South Sound's premier chamber music experience for young adults.
Dr. Lyman's articles have been published by American Music and the International Trumpet Guild Journal. His trumpet warm-up book Practical Daily Warm-Ups for Trumpet is published by Keveli Music. The Lyric Brass Quintet's CD, American Music for Brass Quintet, is available from Emeritus Recordings. A second album, featuring the world-premiere recording of Luther: Seven Scenes for Brass Quintet by PLU Emeritus faculty member Dr. Jerry Kracht, will be released in October, 2018.  Dr. Lyman lives in Tacoma with his wife Anne, son Milo, and daughter Eleanor. In his spare time he enjoys trying to stay upright on his mountain bike, and being a disgruntled Red Sox fan.
Edward Castro, trumpet, is a regular member of the Tacoma Opera, Lyric Brass Quintet, and the Mosaic Brass Quintet. Ed appears occasionally with the Seattle Symphony and Seattle Opera. He serves on the faculty of Pacific Lutheran University and Northwest University. Ed received his bachelor of music from The Manhattan School of Music. Then he attended Yale University School of Music where he received the degree master of music. He received his Doctorate of Musical Arts from the University of Washington. Ed's principal teachers include Chris Gekker (former member of the American Brass Quintet), Tom Smith (member of the New York Philharmonic), Alan Dean (trumpet professor at Yale University, member of Summit Brass, St. Louis Brass Quintet and is a former member of the New York Brass Quintet), Stephen Hendrickson (principal trumpet of the National Symphony) and international recording artist Allen Vizzutti.
Gina Gillie, French horn, is an Associate Professor of Music at Pacific Lutheran University where she teaches horn and aural skills, conducts a horn choir, and performs frequently with faculty groups and in solo and chamber recitals. As an orchestral player, she is currently Assistant Principal with the Tacoma Symphony and has also played with the Northwest Sinfonietta, the LaCrosse Symphony Orchestra, the Central Wisconsin Symphony Orchestra and the Beloit-Janesville Symphony Orchestra. She is a member of two faculty chamber ensembles at PLU, the Camas Wind Quintet and the Lyric Brass Quintet. In 2006, she attended the Tanglewood Music Festival as an orchestral fellow where she worked with world-class musicians such as James Levine, Elliot Carter, Bernhard Haitink, Stefan Asbury, Herbert Blomstedt, Charles Rosen, Barry Tuckwell and John Williams. Dr. Gillie studied horn performance with Douglas Hill at the University of Wisconsin-Madison where she received her master's degree in 2006 and her Doctorate of Musical Arts in 2009. She completed her Bachelor's degree at Pacific Lutheran University in 2004 as a horn player in Kathleen Vaught Farner's studio. A lover of early music, she lectures and performs on natural horn as well as baroque horn. During her time in Madison she appeared in period performances with the Madison Bach Musicians playing repertoire including Bach's Mass in B Minor. Dr. Gillie's doctoral dissertation is entitled "Twentieth and Twenty-First Century Music for Soprano, Horn and Piano: an Original Composition, Professional Recording, and Research of Significant Pieces." Information and recordings from the project are featured on Dr. Gillie's website.
Rebecca Good, trombone, is Lecturer of Trombone at Pacific Lutheran University where she teaches trombone, coaches chamber music, and performs with the Lyric Brass Quintet. In addition to her position at Pacific Lutheran University, Rebecca serves as trombone faculty for Cornish College of the Performing Arts, Evergreen Music Festival, Vivace Chamber Players Organization, Bellevue Youth Symphony Organization and the Endangered Instruments Program branch of the Seattle Youth Symphony Organization, which provides focused instruction to budding musicians on "endangered" orchestral instruments in a public school environment. Rebecca enjoys an active performance schedule throughout the Puget Sound region. She can be regularly heard with ensembles such as Tacoma Symphony Orchestra, Seattle Symphony Orchestra, Seattle Opera, Tacoma Opera, Northwest Sinfonietta, Seattle Modern Orchestra, and Bellingham Music Festival amongst many others. She is also joyfully involved in chamber music with various ensembles, including a recent premiere performance with the Trombone Collective in May 2016. Rebecca received her Bachelor's degree from the prestigious Cleveland Institute of Music where she studied under the tutelage of Steve Witser and Richard Stout. Other primary teachers include James Box, David Ritt, and Mark Babbitt. When she's not holding a trombone, Rebecca enjoys gardening, hiking, fermenting food (on purpose) and going on adventures with her loving husband and two wonderful boys.
Paul Evans, tuba, is the Principal Tuba of the Tacoma Symphony Orchestra and Lecturer of Tuba and Euphonium at Pacific Lutheran University. An active performer in the Pacific Northwest, Paul also performs with the Northwest Sinfonietta, Bellevue Philharmonic, Pacific Northwest Ballet Orchestra, and with the Lyric Brass at PLU. He studied tuba performance with Ron Munson in Seattle, Steve Call at Brigham Young University, and Gary Ofenloch at the University of Utah. Before coming home to the Pacific Northwest, Paul was Principal Tuba of the Boise Philharmonic and played frequently with the Utah Symphony. He performs regularly as a soloist and chamber musician and has been soloist with the Boise Philharmonic, Tacoma Symphony, and Lyric Brass. Paul lives in Tacoma with his wife, soprano Karen Early Evans, and their three beautiful daughters.