Seattle Opera's 'Porgy and Bess' – five Lutes, one stage, hitting the high notes in fun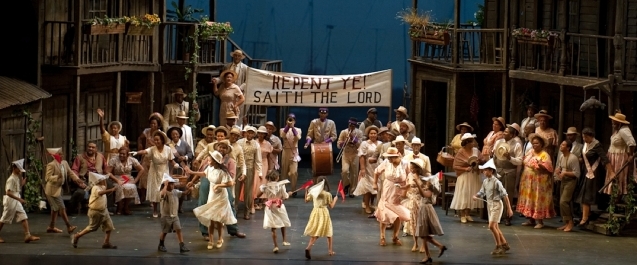 December 13, 2011
Amy Van Mechelen '08 had just finished up her master's degree in music at Colorado State University and had moved back to the Tacoma area. She auditioned for the chorus of Porgy and Bess,and didn't think she'd get a part. But she did. And she was surprised by how much work the chorus had on stage.
"The chorus is on the stage almost all the time and is an integral part of the opera," Van Mechelen said.
After a taste of this, Van Mechelen knows that singing is what she wants to do with her life.
She arrived at PLU as a transfer student. "I went into audition for the music program and the faculty was so warm and inviting … It just felt like home," she said.
Marlette Buchannan Hall, a vocal studies lecturer at PLU, said she showed up for the first day of rehearsals this last summer and realized a few of her students were right along side her.
Hall played the role of "Lily" in the opera, which follows the tragic story of Porgy, a disabled black beggar living in the slums of Charleston, South Carolina. The opera, first performed in 1935 with music by George Gershwin and lyrics by Ira Gershwin, deals with Porgy's attempts to rescue Bess from the clutches of Crown, her violent and possessive lover, and Sportin' Life, the drug dealer.
Hall recalls the rehearsals as grueling. "I don't think people realize all the work that goes into it," she said. Having a built-in support group of Lutes helped. Along with Hall and Van Mechelen, there was Novalee Richard, '09, Stephanie Johnson '11 and Ieisha McIntyre '97.
Johnson said that she has received huge support from her fellow Lutes, including Choir of the West members who helped her put together audition videos, and her current voice instructor (and PLU professor) Barry Johnson, who encouraged her to audition.
"PLU has given me amazing connections," she said.
As for advice for other students seeking a career in singing or opera? "Life isn't a dress rehearsal," she said. "Do your best work every time. Be accountable. Be flexible. Be able, ready and fierce with your art."
Like Van Mechelen, McIntyre arrived at PLU as a transfer student. She graduated with an English literature major, and a vocal and religion minor. McIntyre's mother, Nancy McIntyre '74, also graduated with a degree in education from PLU. After teaching in various places around the country, McIntyre now teaches theater arts in the Seattle Public School District to middle school and elementary age children.
"I like to say I walked across the stage twice," she laughed. "My mother was pregnant with me when she graduated."
McIntyre auditioned on a whim. "I figured, why not?," she laughed. And she was glad she did.
"It was such an awesome experience, working with so many talented people of color," she said. "It's just like being at summer camp. Everyone is there with the same interest, and you're not the odd duck anymore."
Before coming to PLU, McIntyre, 36, characterized herself as shy. But the voice lessons and the support here brought her out of her shell. Once she started teaching, she found it difficult to continue to find the cash to pay for voice lessons. But after the "Porgy and Bess" experience, she intends to find the time, and the money to groom her talent.
"I'm going to do whatever I need to do to make this work," she said. "I'd never had the courage to audition before now, but I've awakened this talent, and I'm going to keep going."