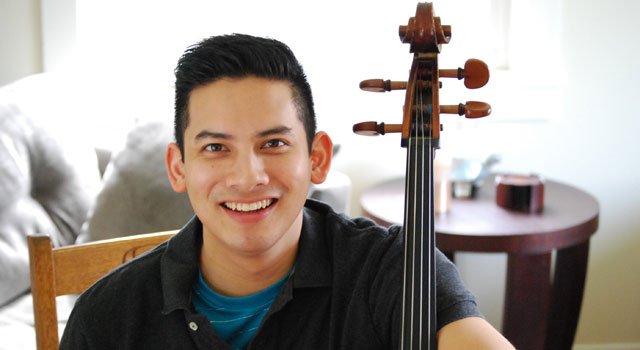 October 21, 2012
By Leah Traxel '14
Justin Huertas '09 was ready to "break up" with acting and playing the cello to pursue a steadier paycheck, when fate stepped in.
Huertas, who has a Bachelor of Fine Arts degree from PLU, had worked fairly steadily immediately after graduation. His first credits included roles in the Seattle Repertory Theatre's Speech and Debate and the Seattle premiere production of The 25th Annual Putnam County Spelling Bee, but when work started to become scarce, he decided to take a break from acting at least, he said, "until I was financially secure enough to be a starving artist again."
Thankfully, that was not to be.
"I got a text from a friend saying the second national tour of the Broadway musical Spring Awakening was looking for a cellist," Huertas said. "Thinking I wouldn't have a shot of hopping on a national tour from Seattle, I applied just for fun."
Two weeks later, he received a job offer from the tour.
"I couldn't believe it," Huertas said. "It was pretty much a dream come true."
The show toured from October 2010 until May 2011, and Huertas kept a diary about his experiences on the road. He is currently working with the Seattle Repertory Theatre to turn the diary into his own show.
"Right now, the working title of the project is Sprung, and we're thinking it's going to be a performance piece in which I tell stories from the road and from my life with Spring Awakening," Huertas said.
Huertas was also since cast in the Balagan Theatre's production of Spring Awakening as a different character.
"The character I played is Hanschen, one of the more confident and informed of the students," Huertas said. "And because I've played upwards of 140 performances of this show on tour, Hanschen now plays cello in Seattle's production."
Huertas said that the experience was a "fun challenge," especially after playing the dual roles of cellist and actor as the Master of Ceremonies in PLU's production of Cabaret under the direction of Jeff Clapp, associate professor of theatre, when he was a sophomore. Fellow alumni and best friend Kirsten deLohr Helland '10 also played in the Seattle production at the Balagan theatre as Ilse. After becoming friends during productions at PLU, they knew they wanted to stick together after graduation.
"We love making art together, so to end up in the same place, working on the same show, was unbelievable and heartwarming," Helland said. "It's a gift."
The original production started rehearsing in November 2011 and premiered in January. The remount of Balagan's production of Spring Awakening opened on April 20th and closed this summer.
Huertas was also cast as Feste in the Seattle Shakespeare Company/Wooden O's production of Twelfth Night, a role which he also played at PLU under the direction of Brian Desmond.