Jazz Under the Stars concert lineup announced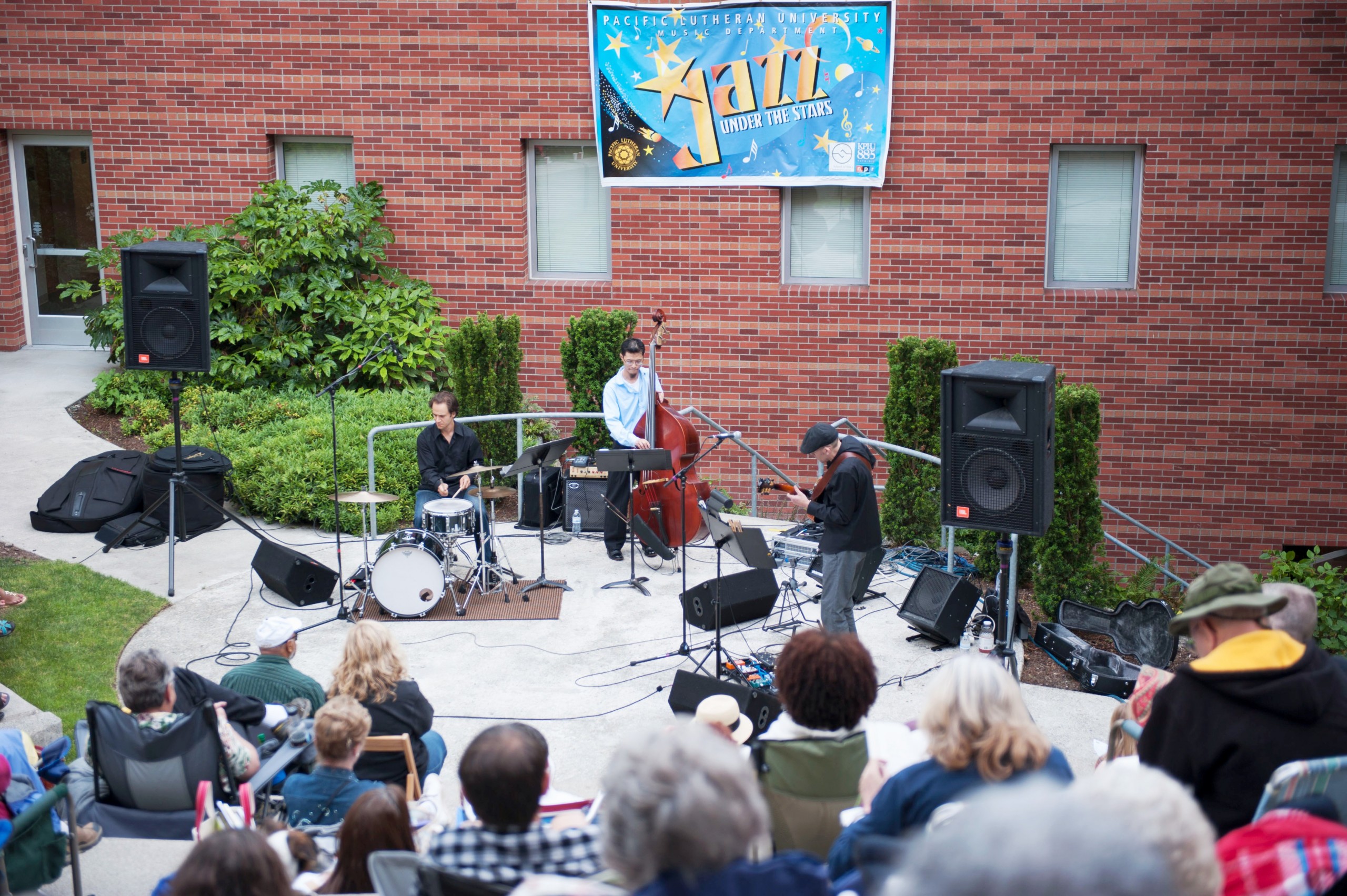 May 2, 2016
By Mandi LeCompte
Outreach Manager
The 2016 Jazz Under the Stars series will begin on Thursday, July 7 in the outdoor amphitheater of the Mary Baker Russell Music Center on the PLU campus. This annual summer concert series is FREE to the public, PLU's gift to our community. The series runs Thursdays for six weeks, 7:00-9:00 p.m. The series is put together by Jazz Under the Stars Director David Deacon-Joyner.
Bring your lawn chairs and your picnic food. Free coffee is available and select wine, beer and snacks are available for sale. 208 Garfield will deliver your dinner to the concert, stop in and order your favorite sandwich or salad by 6pm Wednesday.
The lineup for the 2016 series is:
July 7: Casey McGill Orchestra (Seattle vintage swing band)
July 14:The Keith Henson Octet
July 21: Olympia Jazz Tentette
July 28: Wendy Gilles (New York vocalist and PLU alum)
August 4: Eugenie Jones (NW vocalist of the year)
August 11: Greta Matassa (Internationally-renowned Seattle vocalist)
After the last three concerts (July 28, August 4, August 11) PLU physics department and Tacoma Astronomical Society offers stargazing at PLU's Keck Observatory, weather permitting. Star charts are passed out at the concert and the telescope is available for the public.
Come and hear the world-famous Fuchs organ in our Lagerquist Concert Hall for a short 10 minute intermission performance.
Concerts are never cancelled due to weather. Weather updates and location changes will be shared on the PLU Music Facebook page. On days with inclement weather, concerts will be held in Lagerquist Concert Hall of the Mary Baker Russell Music Center.
AUGUST 11: Greta Matassa
Greta Matassa is one of the most talented singers working in jazz today. She has been voted "Northwest Vocalist of the Year" by Earshot Jazz seven times in 15 years! She was voted again, vocalist of the year in 2014 and honored with a lifetime achievement award and inducted into the Earshot Jazz Hall of Fame in 2014.
Greta has been a mainstay on Seattle's Jazz stages for many years and with her recent successful dates at New York's Dizzy's Club at Lincoln Center, tours of Russia, Singapore and Hawaii and Japan, Greta's sound is now reaching new audiences. Greta has released seven CD's on the respected jazz label Origin Records and a DVD live concert with guitarist Mimi Fox. Her latest cd "I Wanna be Loved" Resonance Records was critically acclaimed.
Greta is also a respected and generous teacher. She has been on faculty at Jazz Camp West, Drayton Harbor Jazz Festival and The Fairbanks Summer Arts Festival. She has a thriving private teaching practice and is releasing an instructional e-book in 2015 and new CD is coming in 2016.