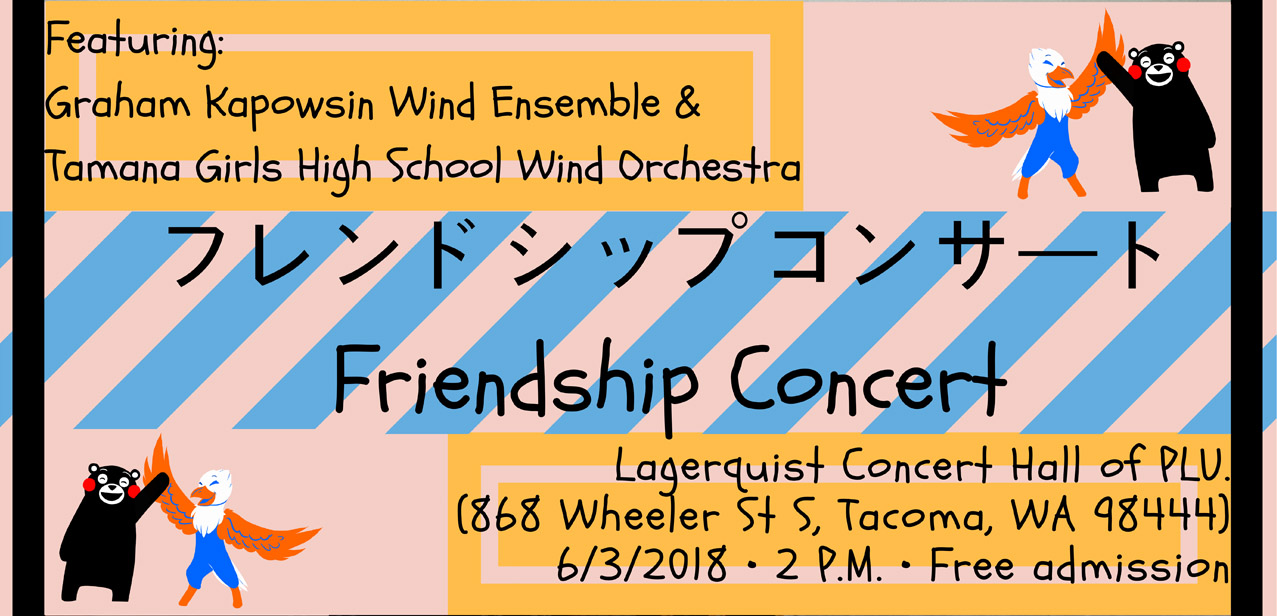 Connecting through music: Japanese band joins band from Pierce County to promote unity through music.
GRAHAM, Wash.— A prestigious all-girls high school band from Japan, Tamana Girls High School , will once again visit Pierce County this June to share in a friendship concert with Graham-Kapowsin High School, GKHS. Their message: friendship through music.
This year the Friendship Concert performed by Tamana Girls High School Wind Orchestra and the Graham-Kapowsin High School Wind Ensemble will take place on Sunday, June 3 at 2 pm at Pacific Lutheran University's Lagerquist Concert Hall.
Since 2008, Tomio Yamamoto, a well-revered Japanese music educator, along with Japanesepercu ssionist and now Pacific Lutheran University professor Dr. Miho Takekawa have connected Graham-Kapowsin High School and Tamana Girls High School from Tamana, Kumomoto, Japan for annual friendship concerts. Every year, students either travel from Pierce County to Japan, or vice versa, for the concert.
Mr. Yamamoto continues to give generous financial support for students in the U.S. and Japan to be able to travel to each country.
This past January, GKHS students traveled to Japan where they had the opportunity to perform with the Tamana Girls High School students in a New Year Concert.
Mr. Yamamoto, Dr. Takekawa, GKHS band director Paul Bain and Tamana Girls High School Wind Orchestra director Mr. Shinichi Yoneda believe music connects the students and their audience, regardless of any language differences. While the Japanese students are in Pierce County, the GKHS students and their families host the girls, creating friendships to last a lifetime.
The Tamana Girls High School students will have multiple band practices during their stay in Washington State. For most of the students, this will be their first time in the U.S., and thus a quick tour of western Washington is also on their busy schedule. After their performance with GKHS on June 3, they will head to perform at the Glenn Miller Festival in Clarinda, Iowa where jazz legend Glenn Miller was born.
About the bands:
The Tamana Girls High School Wind Orchestra has received gold medals both at the All Japan Band Association and Japan Marching Band Association multiple times. The band program at Graham-Kapowsin High School has also experienced tremendous success. They were selected to perform at the 2010 and 2014 Washington Music Educators Association Conference in Yakima. In 2015, the GKHS wind ensemble performed at the Northwest Regional Music for All Festival. Together, Graham-Kapowsin High School and Tamana All Girls High School invite the public to enjoy their Friendship Concert. Admission and parking are free.