The PLU Wind Ensemble tours Tennessee this month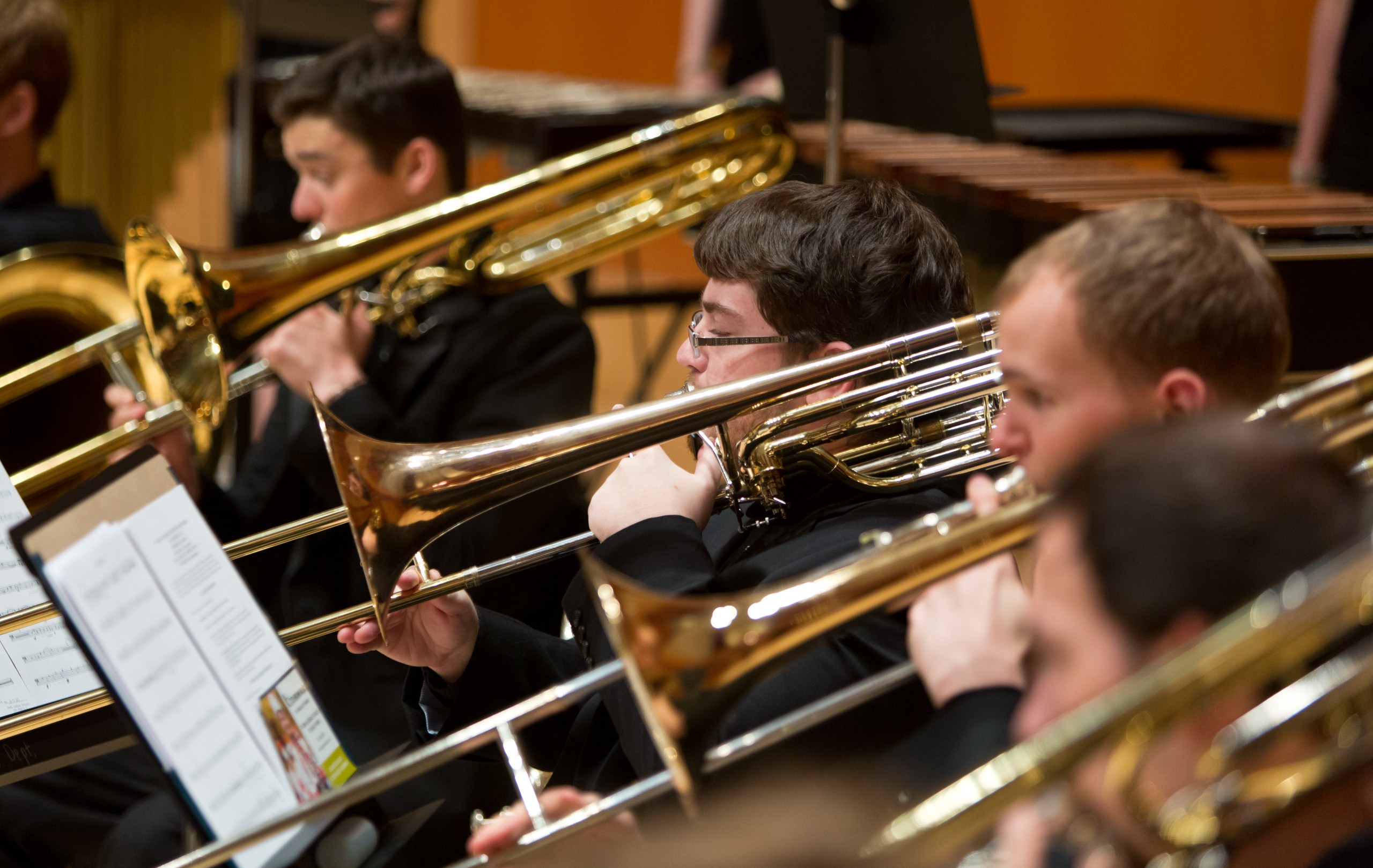 January 12, 2015
Features world premier of work by PLU composer Gregory Youtz
PLU's University Ensemble is stretching its legs this January as 47 talented Lutes will be performing at venues in Nashville, Knoxville and Chattanooga, Tennessee. The ensemble will feature the world premier of For Those Who Wait, a commissioned work by PLU composer, Dr. Gregory Youtz. Other selections will include Four Scottish Dances by Malcolm Arnold, Two Lane Blacktop by James David and the Persichetti Symphony.
For Those Who Wait was written in response to the numerous armed forces returning home physically or psychologically wounded after tours of duty in the Iraq and Afghanistan wars. While much attention has been devoted to the heroism of those veterans, Youtz wanted to shine a light on those who wait at home.
"I tried, in this piece, to capture the experiences of friends and students of mine in this position of waiting- from the times when anxiety is just a general background worry, only half conscious in the mind, to those dark nights of the soul when fear overtakes everything. And through it all, there is nothing to do but to wait and hope," explains Youtz.
For Those Who Wait was commissioned using a unique experiment. Due to Youtz's national reputation and PLU Wind Ensemble's name for commissioning and performing new works, more than 60 schools, from large universities to local high schools, came together on this commission and will also perform the work.
University Wind Ensemble conductor, Dr. Edwin Powell, is well known in Tennessee, having taught conducting courses and music education methods at the University of Tennessee in Knoxville, where he was Assistant Director of Bands.
"It's exciting to return to Tennessee where I spent five years before I came to PLU," Powell said. "I look forward to reconnecting with colleagues and many former students while I'm there, and of course, sharing the talents of our students at Pacific Lutheran will be a treat."
The Wind Ensemble tours both domestically and internationally, representing a dynamic Department of Music comprised of 200 music majors and 400-500 music program participants each academic year. Most recently the ensemble toured in Australia and China.
Concerts
Friday, January 23, 7:00 p.m.
First Lutheran Church, Nashville, TN
Sunday, January 25, 7:00 p.m.
Shared concert with Chattanooga School for the Arts and Sciences
Creed Bates Auditorium, Chattanooga, TN
Monday, January 26, 8:00 p.m.
Shared concert with University of Tennessee Wind Ensemble
John R Cox Auditorium in Alumni Memorial Building on campus, Knoxville, TN
Wednesday, January 28, 7:30 p.m.
Christ Lutheran Church, Nashville (Brentwood), TN
Thursday, February 5, 8:00 p.m.
Lagerquist Concert Hall, PLU (Homecoming Concert)
Streaming Live at http://bit.ly/plu-webcast