PLU opera opens Handel's 'Alcina' this January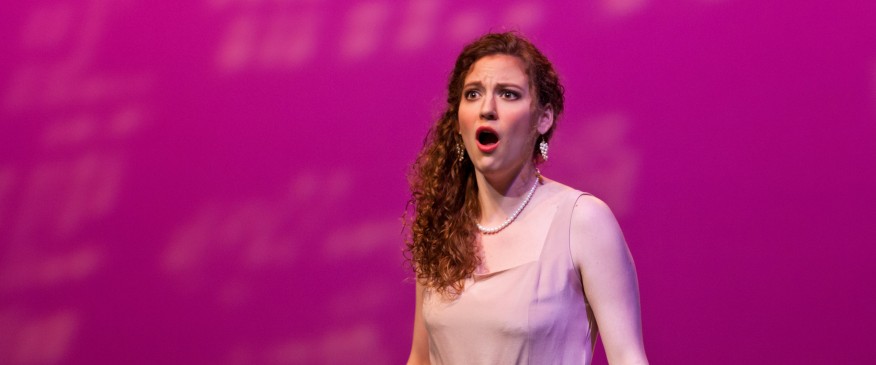 January 13, 2015
Travel to Alcina's island for a story of magic, enchantment and song. This January, surround yourself with magnificent music when Pacific Lutheran University Opera performs Handel's Alcina on the Karen Hille Phillips Mainstage. There are four opportunities to view the production:  January 22, 23, and 24 at 7:30pm and January 25, at 2pm. James L. Brown will conduct and stage direct.
Taken from the epic poem, Orlando furioso, Handel's masterpiece focuses on the sorceress, Alcina and her enchanted island that lures lovers into her power. One of these lovers, Ruggiero, is a warrior betrothed to Bradamante, who disguised as her brother, travels to the island in search of him.
"It's an opera with just exquisite tunes. My favorite moments in the opera are the exquisitely beautiful arias sung by our students," Brown remarks. "There are a couple of arias, which will feature extended solos from our string faculty- forming a duet with the singer. It must be heard to be believed! Handel really outdid himself in this music."
Brown programs the annual production with a three-year cycle of repertoire to expose students to baroque, standard repertoire, and modern opera during their four years of study. Brown notes that Handel is a particularly healthy repertoire for young singers. The music alternates between lyrical and melismatic without straining the range of a younger singer.
"There are moments of ornamentation in da capo arias in which students can show off virtuosity and extended range," Brown explains. "Also, the orchestration is not very thick, so singers can be challenged without pushing their voices in an unhealthy way."
The opera, performed in Italian, creates a challenge with the language barrier. Luckily, PLU's music library has the complete opera text with a word-for-word translation and pronunciation. Brown also coaches the students on the language. The audience can follow the story with English supertitles on a screen above the stage.
The annual production comes together with a collaborative effort between students and faculty. Sheila Bristow, PLU's opera coach, and Brown are joined by Theatre faculty member Kathleen Anderson for costume design and head of Stage Services, Art Giddings, as Technical Director. Faculty work alongside student designers: Erika Hagen and Tasha Smith (makeup and hair), Casandra Gramstad (lighting) and Emily Stenson (set).
"It's a great example of student/faculty research! We are also blessed with an opera orchestra of PLU faculty members," Brown says. "It's going to be a great show!"
Arrive 30 minutes early to enjoy concessions, including snacks, beer and wine; a portion of concession proceeds benefit the arts at PLU. Purchase tickets through the PLU Campus Box Office at the Concierge desk in the Anderson University Center and on the phone at 253-535-7411.  Tickets are $15 General Admission, $10 Senior Citizens (55+) and PLU Alumni, and $5 for PLU community, students, and 18 and under.