Snapshot of the recent Honolulu trip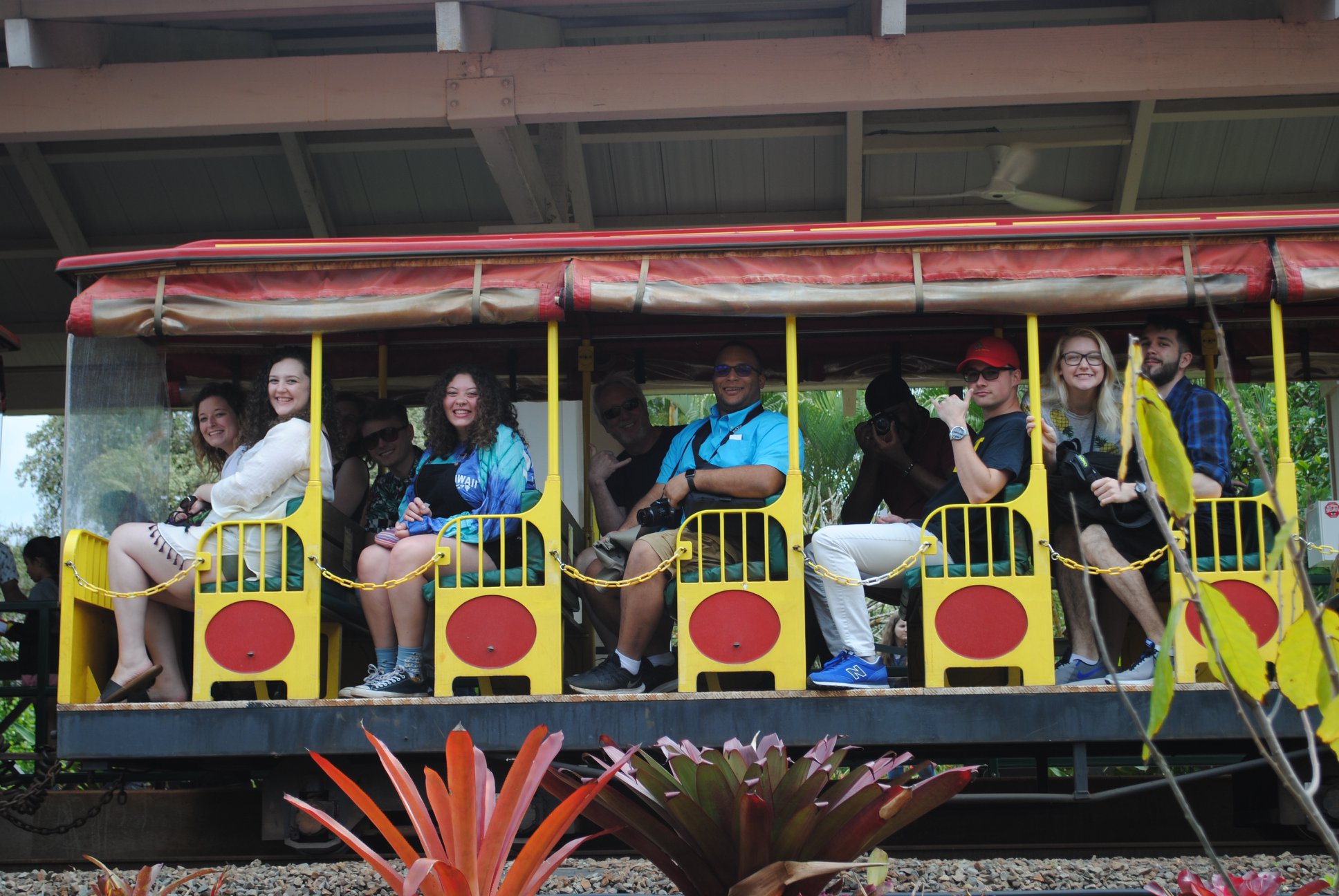 February 22, 2019
The PLU Wind Ensemble traveled to Hawaii at the end of January for their 2019 Hawaiian Tour. The trip was the groups' first time touring the islands in over 20 years.
The group toured January 23rd – 30th on the island of Oahu, with stops at University of Hawai'i-Mānoa, Mid-Pacific Institute, several local high schools, and many sightseeing stops along the way.
Aloha! Here's an update from the road (er, boat) on the Wind Ensemble's J-Term trip in Hawaii:
So far the tour is going great and certainly meeting our best expectations.  As we've gone day to day, the trip continues to become more well-rounded at every turn, and everyone seems to be enjoying themselves quite a bit – but hey, it is Hawaii after all (it'd be hard not to right)?
After arriving in Honolulu we headed to our hotel which has been working out great – just blocks from Waikiki, with the beach and so much good shops and restaurants, everything is easily accessible with plenty of opportunity to explore.
Our first full day we went to Pearl Harbor, what a humbling experience and such an important and historical site to witness and understand, an extremely valuable experience.
Day two brought our first opportunities to share and perform some music.  We started by heading north of Honolulu to Leilehua High School – a great exchange and we are so happy to have visited there. Later in the day we had a phenomenal exchange with the University of Hawaii-Manoa, thank you to their director, students, and families who hosted us – it was great to share music, food, time, and conversation with all of you.
The following day we were honored to be a part of PLU's Honolulu Connection Event with alumni, prospective students, and administration.  This was a great added bonus for us – firstly, some really great alumni we had the chance, but additionally some direct interaction with a number of prospective lutes (a great showing too), along with our president and provost – we were thrilled to have the opportunity to perform a couple chamber music works and showcase a few members of the wind ensemble.
Yesterday we went on an adventure to the north coast. First stop was the Dole Pineapple Plantation – mmm, Dole Whip! After that we headed into historic Haleiwa town. Fantastic food, lots of great art galleries, and of course some world famous shave ice. We got to spend some time at a couple different beaches, Sunset Beach and Kualoa Regional Park, and headed down the east side of the island which is just gorgeous
Today, we're out on a whale watching cruise – and yes, we were able to see a humpback and her calf for most of the time we were on the water, it's a strong reminder to take care of this planet we call home, and to protect and cherish these beautiful creatures and the environment they call home.
Once we get off the boat we're headed off to a couple more exchanges – first Mid-Pacific and then later this evening Kalani High School. Tomorrow we'll visit 'Iolani High School, and then share a final luau dinner and show at the Polynesian Cultural Center. We'll get up early and head home the final day.
Thank you to all of the wind ensemble student performers, Dr. Powell, all other PLU family, and our school hosts. We have had a wonderful time in Hawaii and we are honored to have shared our tour with all of you. Our tour has been a success and we can't wait until the next time we are able to return.
Mahalo!
~ Ryan Marsh, Music Department, Administrative and Performance Assistant, Tour Chaperone