Faculty Feature: Dr. Jeffrey Bell-Hanson, Professor of Music and Director of Orchestral Activities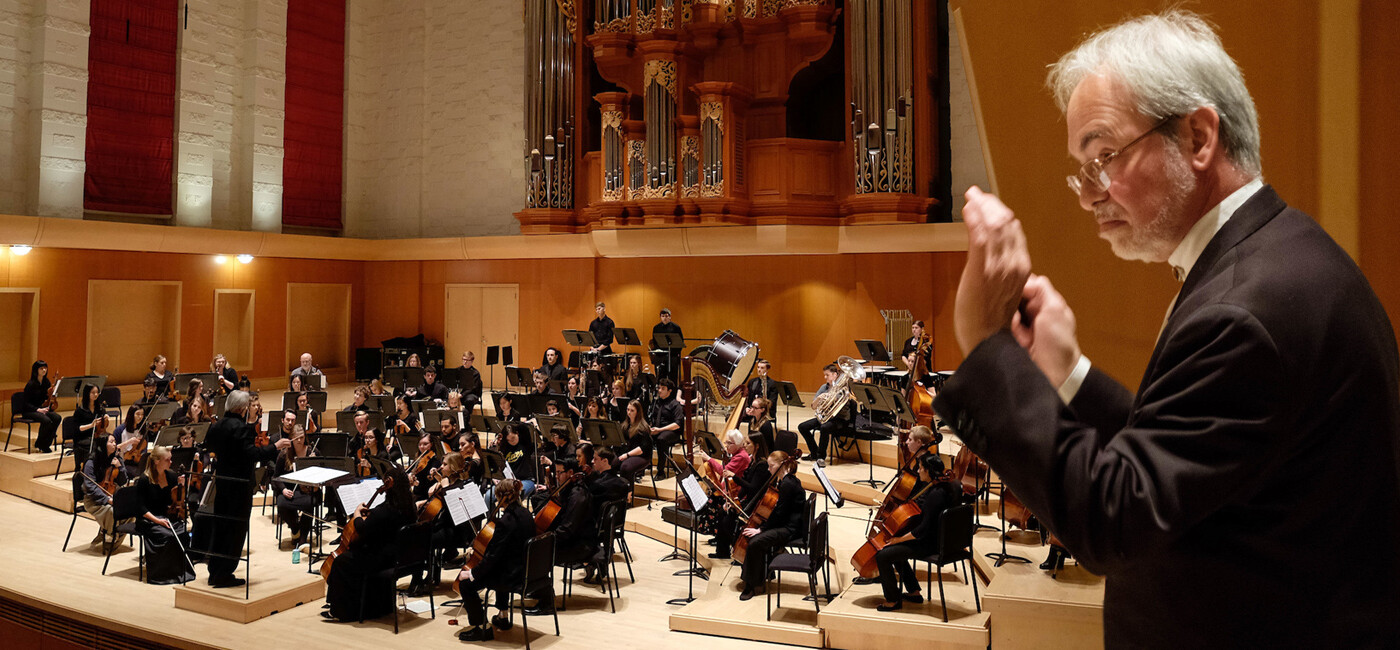 June 22, 2020
Why did you decide to study music? What sparked your interest in music and how did your academic path and career develop from there?
It was a family business for me, so to speak. My father was my first teacher in both piano and trombone, and my first band director. I learned to read music before I learned to read English. The die was cast at an early age. I did find that it was what affirmed me the most, as I suspect is true for many of our students.
What is your educational background?
I attended public schools in central Iowa and then earned a BM with an Education Certification from the University of Iowa. Next was a MM in Trombone Performance and Literature from the University of Notre Dame, and finally a DMA in Orchestral Conducting from the University of Iowa. I consider my major teachers to have been John Hill and Frank Crisafulli as a trombonist, and James Dixon as a conductor. I've also had some significant experiences with other teachers, like Murry Sidlin and Henry Charles Smith.
What is your favorite class to teach and why?
That's tough! I love the orchestra, of course. I find something wonderful about all of the courses I teach—the music history course, the introductory research course for our capstone students and composers, and, yes, even ear training. That last one in particular is crucial to the development of musicians. In my experience it is a life-long quest, but one for which our students need good tools.

What should potential PLU music students know before they apply to PLU or declare the major?
That while PLU is a liberal arts university—and deeply committed to those liberal arts traditions that characterize Lutheran education—we also take performance very seriously. They should expect to be asked to perform. We want our students not just to study about music, we want to help them to become thoroughly competent musicians; professionals who can express themselves musically in addition to all the other ways that they have to communicate.
In your time at PLU, what have you learned from your students?
To listen; not just to the words that they are using, but to the needs that stand behind those words. All of them want to succeed. Often they need more guidance than they think in the process. But that's true for me too. I need their guidance—and learning to listen to them has been important.
Why did you want to teach at PLU?
Its reputation for musical excellence as well as the atmosphere of inquiry and service.
What do you hope your students take away from your classes?
Three things: A shared sense of commitment to community; tools that will be valuable for them in the future; and a value for listening.
What makes you proud to be a PLU faculty member?
That I am allowed a place among this tremendous group of professionals and colleagues. They are truly impressive.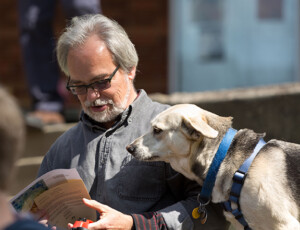 Tell us a few fun experiences that you've had since you began teaching at PLU.
Lots, but the orchestra tours in Europe have to be highlights. I don't think I have ever had a better concert experience than our last concert in Barcelona in 2017.
Favorite way to unwind after a long week of teaching and grading?
The Saturday morning walk with my wife and our dog, Chloe.
Just for fun!
Cats or dogs?
Dogs! They don't make me sneeze.
Coffee or chocolate?
Must I choose?
French fries or hash browns?
Same answer, but I really should order the fruit option.
Mac or PC?
I go both ways; right now I'm a PC guy. I do sort of miss the old DOS days. I even learned some UNIX commands once upon a time.
Instagram or Twitter?
Instawhoawhat? I am sometimes all atwitter after a good rehearsal. Does that count?