Two Anniversaries, One World Premiere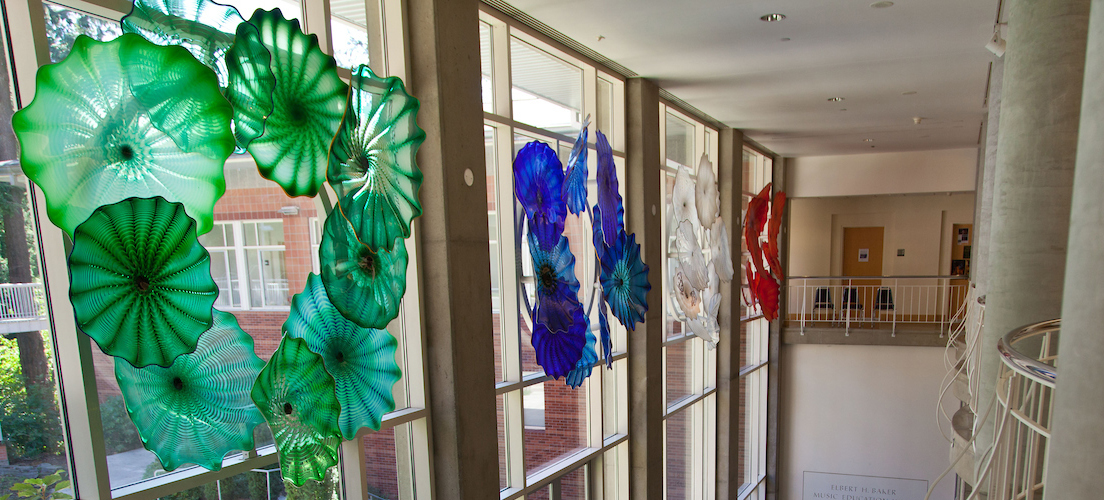 October 5, 2022
Music Professor Emeritus Jerry Kracht (conductor, University Symphony Orchestra, 1967-2001) was ready and waiting to celebrate two significant anniversaries in the Department of Music at PLU: ready since 2013 when he composed Fanfare, Fantasia and Finale (On a locally familiar tune), and waiting until 2020, the fiftieth anniversary of Lawrence Meyer's Processional of Joy as well as the twenty-fifth anniversary of the Mary Baker Russell Music Center and Lagerquist Concert Hall. The premiere of his work in honor of these anniversaries—twice postponed by the pandemic—will now finally take place on Tuesday, October 25, 2022 when the University Symphony Orchestra, under the direction of Jeffrey Bell-Hanson, performs it in Lagerquist Concert Hall at 7:30 pm.
Asked why this particular work for these particular anniversaries, Dr. Kracht answered: "In part because I was there—conducting the premiere of Dr. Meyer's academic processional march, Processional of Joy, in 1970, and conducting the USO for the opening of Lagerquist in 1995—two particularly significant events in the life of music at PLU. Dr. Meyer's music has been used at virtually every academic occasion ever since, and the creation of the Mary Baker Russell Music Center, well, that facility dramatically changed music at PLU forever. It's important not to forget these milestones, and anniversaries are one way to remember. And just think, none of the students who will take part in this premiere were even born yet when these things became part of PLU history. It's important for them to know this past, too."
Asked how it happened that Fanfare, Fantasia and Finale was written so long before the anniversaries it was meant to celebrate, Kracht said, "I had been thinking about these two significant creations—Dr. Meyer's march and the Mary Baker Russell Music Center—and realized their fiftieth and twenty-fifth anniversaries, respectively, would fall in the same year, 2020. It struck me as an event worthy of a new piece. Never mind this came to me in 2013, seven years in advance. One writes when the idea hits. I knew it takes time to plan such observances, and seven years didn't seem all that far off. What we didn't plan for was the pandemic! Now, at last, and two years late, we'll have the premiere."
As a piece for full symphony orchestra, written for the PLUSO, how does it honor these two belated anniversaries? "The piece draws primarily on musical elements of the Processional of Joy—the "locally familiar tune" of the title. It's sort of my riff on Larry's signature work and PLU's academic theme-song since 1970. And scattered amongst these elements are also snippets of the very first work ever played by the orchestra in Lagerquist on that opening night in 1995, Beethoven's Consecration of the House overture. Ideas from these two diverse composers worked together in a happy coincidence of compatibility to make this new piece, a kind of fantastical salute to both historical events. It's dedicated to PLU, the Department of Music, and the University Symphony Orchestra."
Also featured on the program is a performance of Samuel Barber's Violin Concerto, Op. 14 by violinist Svend Rønning, PLU professor of music and chair of stringed instruments.
Tuesday, October 25, 2022, at 7:30 PM
Lagerquist Concert Hall
Mary Baker Russell Music Center
868 Wheeler Street South
Tacoma, WA 98444