Choir of the West, University Chorale, and University Wind Ensemble Spring Conference Appearances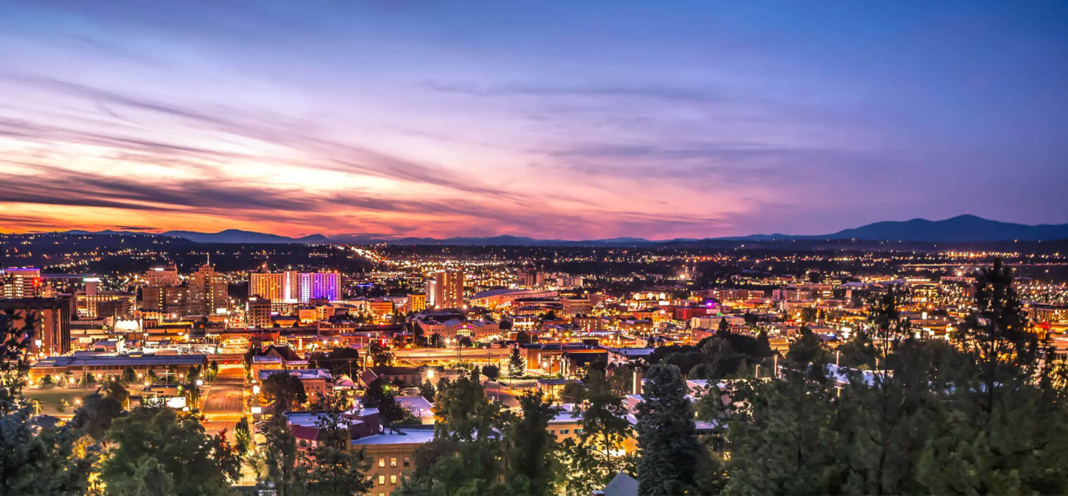 February 15, 2022
Three PLU music ensembles will take their performances to venues near and far next month. Two vocal groups, Choir of the West and University Chorale, are traveling to Spokane to perform at the American Choral Directors Association (ACDA) 2022 regional conference. University Wind Ensemble is making an appearance much closer to home, on the campus of the University of Puget Sound for the College Band Directors National Association divisional conference.
Choir of the West & University Chorale
The PLU Chorale joins collegiate singers from six universities in presenting the opening concert of the Northwest ACDA Conference, with world-class conductor Edith Copley, headliner composer Morten Lauridsen, and professional orchestra. Chorale will open the conference with music of healing and renewal, as the ensemble performs Lauridsen's Lux aeterna in the Myrtle Woldson Performing Arts Center at Gonzaga University. Choral musicians may be familiar with the central movement of this music, "O nata lux." PLU audiences will remember it as the title and a featured work in our 2019 holiday concert, and performed again in 2021 by Chorale.
PLU Department of Music Chair and Chorale Conductor Dr. Brian Galante said, "Having two choirs from the same school selected for conference performances is a tremendous honor, and a testament to what we have been able to accomplish in very challenging times. We are so very proud of our students—those currently singing in the ensembles, and those recently graduated who upheld our tradition of excellence. PLU will be represented well at this conference, and we celebrate Richard Nance's remarkable career and the strength of the program he helped to build."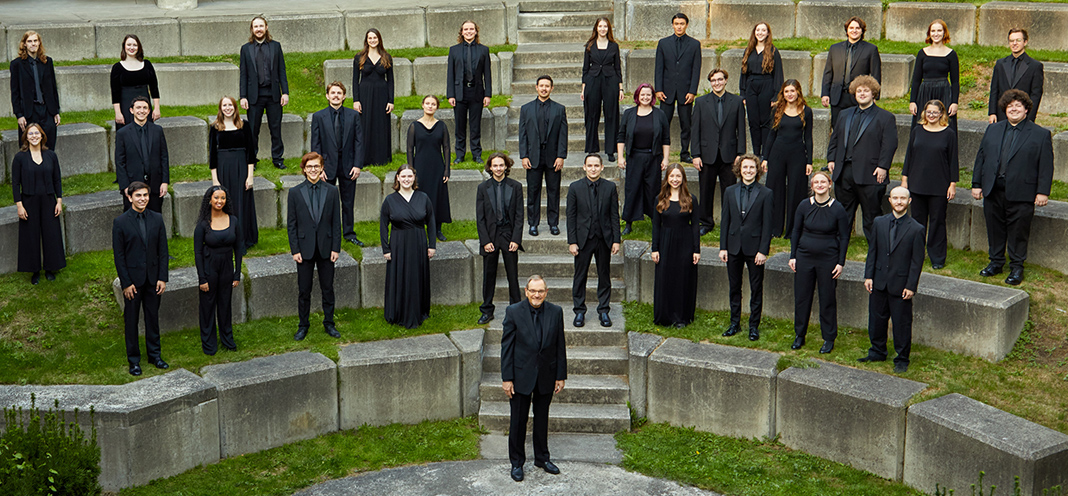 The Pacific Lutheran University Choir of the West will perform a 30-minute program twice on Friday, March 11. First they will sing at noon at St. Mark's Lutheran Church and then they will sing for the NW ACDA Conference at 8pm. The public is welcome to attend the concert at St. Mark's or purchase a ticket to the evening performance during the conference. The concert includes these pieces:
Conductor Richard Nance noted, "Being selected to perform for any ACDA conference is a great honor, and it feels especially important coming out of what has essentially been two years without choral singing. This program is special because of its deep connection to PLU, with works by alumnus Jason Saunders, Music Department Chair Brian Galante, and myself. I am always proud of the effort the students in Choir of the West put into their work, and I know they will represent the university very well."
University Chorale with the Combined Collegiate Choir
Wednesday, March 9, 2022 at 8pm
Myrtle Woldson Performing Arts Center at Gonzaga University
211 E Desmet Ave, Spokane, WA 99202
Choir of the West at St. Mark's Lutheran Church. Admission to the concert is free, and parking is available on site.
Friday, March 1, 2022 at 12 noon
St. Mark's Lutheran Church
316 E 24th Ave, Spokane, WA 99203
Choir of the West at ACDA conference venue The Fox Theater. Tickets are required.
Friday, March 11, 2022 at 8pm
The Fox Theater
1001 W Sprague Ave, Spokane, WA 99201
University Wind Ensemble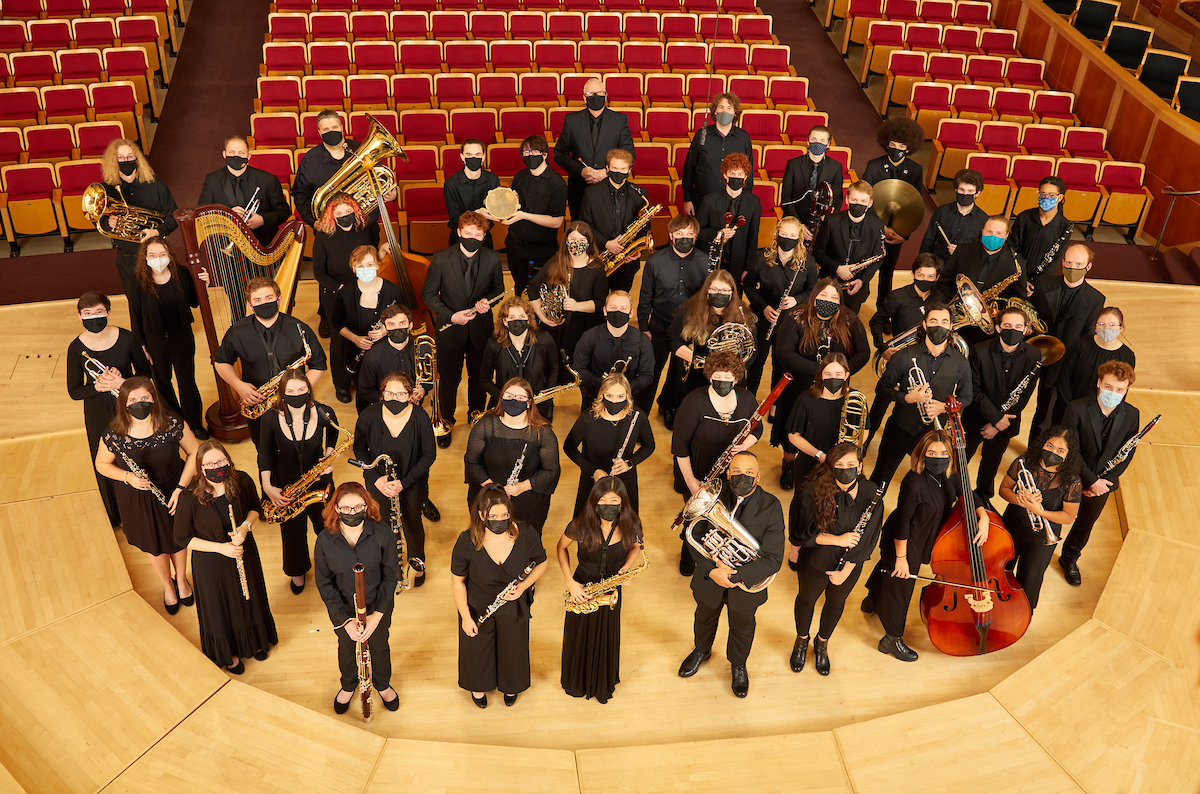 The College Band Directors National Association West & Northwest divisions will hold their biennial 2022 conference (after a hiatus in 2020) at the University of Puget Sound. PLU performed at the 2018 conference in Sonoma, California. Performance slots are granted by invitation only. According to Conductor Dr. Edwin Powell, "It is a huge honor for us to be selected to perform for this conference. We are very proud and excited to play at such a high profile event. We are particularly proud that the repertoire we are performing is closely connected to Pacific Lutheran University. The Music Department has consistently championed new repertoire of all musical genres and the Wind Ensemble has given 37 premieres since 2005." Recital repertoire features:
Additionally, the conference features an Intercollegiate Honor Band and PLU had a number of students selected to perform. Congratulations to these students:
Jeremy Wuitchick, clarinet
Benjamin Martin, soprano saxophone
Marie Morgan, tenor saxophone
Jessa DelosReyes, trumpet
Autumn Lyle, trumpet
Dylan Patrick, tuba
Quinn Rasmussen, percussion
The University Wind Ensemble concert is open to the public. Admission to the concert is free, and parking is available on campus. Proof of Covid-19 vaccination is required.
Friday, March 18, 2022 at 2:45pm
Schneebeck Concert Hall, University of Puget Sound
1500 N. Warner St., Tacoma, WA 98416