It's Music to My Ears: Tips for Scholarship Applicants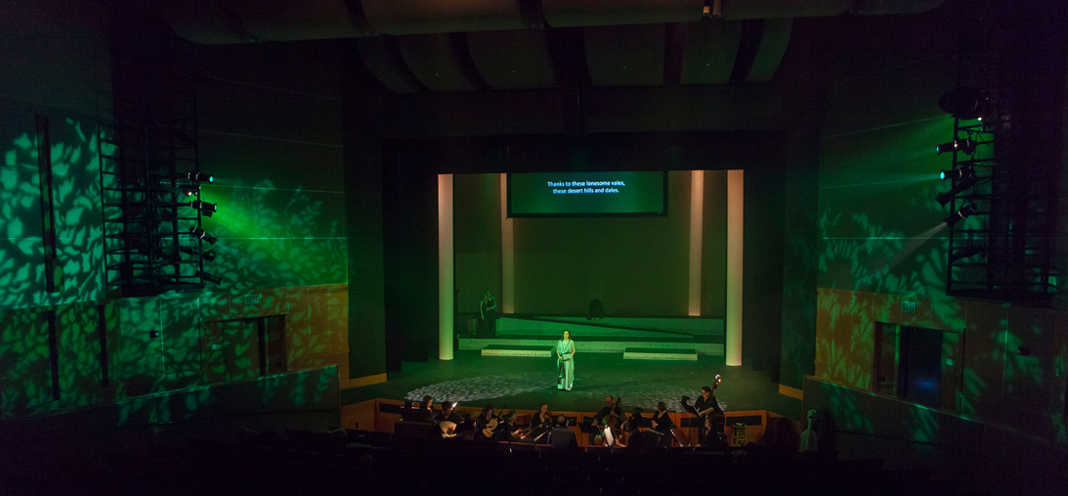 January 29, 2021
We're in a brave new world of all-online scholarship application and adjudication process. Students entering PLU in fall 2021 as a first-year or transfer student with an interest in Music can still apply for an Artistic Achievement Award. Read more in this blog post for answers to frequently asked questions and additional context.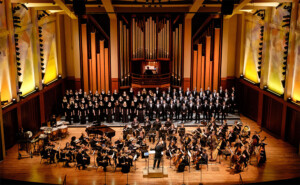 How do I apply?
Apply online via Acceptd, a website that many arts programs and schools use for admissions and competitions. You must also officially apply to PLU (if you haven't already) but you do not need to have received your acceptance letter in order to apply for Artistic Achievement Awards.
What's the application deadline?
Submit all your materials no later than 5pm Pacific on Monday, February 8, 2021.
I would like to be considered for an Artistic Achievement Award in more than one area. Can I submit more than one application?
Yes, you may apply for more than one Artistic Achievement Award, which are offered in Art & Design, Dance, and Theatre in addition to Music. However, your applications will need to be entirely separate and you will need to prepare all of the necessary application materials for all areas.
If you have two music interests (such as more than one instrument, voice and an instrument, or composition and an instrument, for example) our application process allows you to detail up to two music areas that you want taken into account for your scholarship application. Keep in mind these important considerations: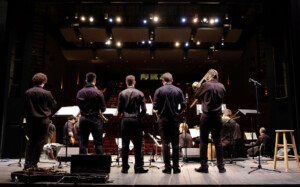 Music scholarships are awarded in a single specific area (e.g., voice, or cello). Submitting audition recordings in multiple areas will not increase the amount of your award.
All music scholarships require successful participation—each semester—in private lessons and, by audition and placement, in a scholarship ensemble in the area of your award. You may certainly take lessons in a secondary area, or participate in an additional ensemble, but the scholarship expectation remains in the area of your award.
If you audition in multiple areas, the PLU faculty will determine the area in which the scholarship is awarded. If you intend to accept a scholarship only in one particular area, do not submit multiple auditions. Audition only in your preferred area.
What are the instruments/concentrations you accept?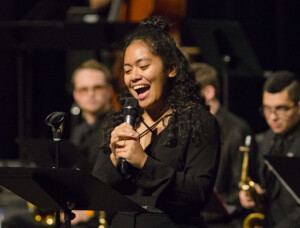 Instruments
Bass (Electric/Jazz or Orchestra), Bassoon, Cello, Clarinet, Drum set (Jazz), Euphonium, Flute, French Horn, Guitar (Classical or Jazz), Harp, Oboe, Organ, Piano, Percussion (Band/Orchestra), Saxophone, Trombone, Trumpet, Tuba, Viola, Violin
Voice
Soprano, Alto, Tenor, Bass
Other Areas of Interest
Composition, Jazz, Music Education
I want to audition to be a Music major. Can my scholarship audition count for this?
The Music Department requires an Entrance Audition to be admitted into the degree. This audition normally occurs at the end of the semester in which you declare your degree (for example, if you declare a Music major in Fall 2021, your entrance audition will occur at the end of the Fall semester, after you have the benefit of private instruction and some introductory work in music classes). For students who receive an Academic Achievement Award, the entrance audition is waived so, in a sense, the scholarship audition serves a dual purpose!
What are the questions that I need to answer on the application?
We ask basic questions about you and how to contact you. We also ask for information about your study of music so far, like how long you've been playing or singing, who your teachers are, if you've participated in an auditioned All-State or All-Region ensemble or State Solo and Ensemble Contest (or equivalent domestic/international festival). Additionally, we ask to see a resume that details your musical participation and achievements.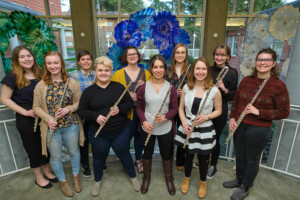 What do I include in my audition video?
Suggested music audition repertoire is specific to your instrument. Please visit our Music Audition Repertoire webpage for more information.
How long should my video be?
Before the COVID-19 pandemic, in-person auditions allowed for about 5 minutes of audition time. We ask that you keep your video submissions under this time allotment, or the shortest amount of time needed to complete the scales, exercises, or excerpts you are playing.
Where do I upload my video submissions?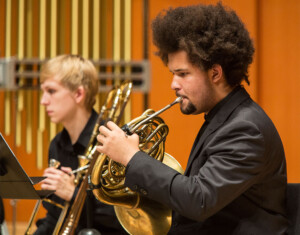 There is a portal to upload your video in the online application. If you are auditioning in a primary and secondary medium, the videos must be separate for each concentration. Outside links (on YouTube, Vimeo, etc.) are not accepted.
What do I include in my Artistic Achievement Award application for Composition?
For students interested in Composition, you will select it as your secondary medium on your application. A file upload box allows you to share a sample of your work with us in any format you prefer—the upload portal will accept documents like PDF or PowerPoint; music or video files like MP3, MP4, and many more; and music-specific files MUSX, SIB, and MID.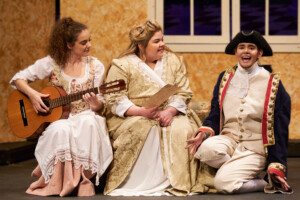 Do I need to be fully admitted to PLU to receive a scholarship?
Yes. We cannot extend an Artistic Achievement Award offer to you until you are fully admitted to the university.
When will adjudications happen?
Faculty begin reviewing application materials in mid February. Auditionees are ranked by accomplishment, talent and potential, and department need.
When will I know if I'm receiving an Award?
Letters with Award notifications will be mailed as quickly as staff are able once decisions are made and paperwork is processed.
How do I keep my Award?
Unlike other College of Professional Studies Artistic Achievement Awards, you do not need to declare a Music major or minor in order to maintain your award. All Music scholarships require successful participation—each semester—in private lessons and, by audition and placement, in a scholarship ensemble in the area of your award. Artistic Achievement Awards are renewable up to three additional years, subject to review of enrollment and grades received in lessons and ensemble. We welcome students of all majors to enrich their time at PLU by participating in the Music Department.