Harpsichord Donated to PLU Music Program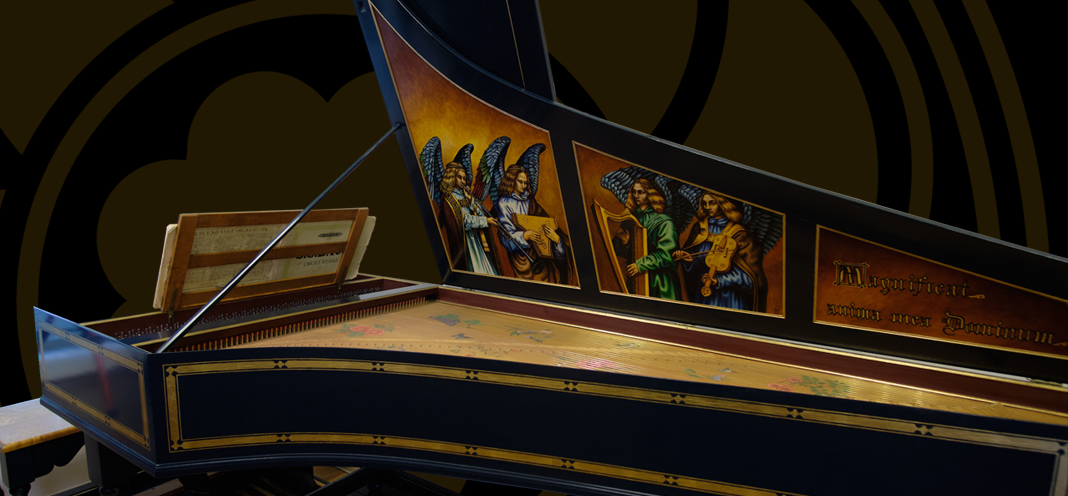 February 16, 2021
We are grateful to the family of Jeanette Pilgrim, who donated her personal harpsichord to the Music Department. This unique instrument constructed by Kenneth Bakeman in 1980 has two keyboards and a pedal division with painted motifs on the lid and soundboard. Instruments built by Bakeman are uncommon as he built them for only a short period of time. This particular harpsichord has a lower level of strings operated by pedals and an upper level manipulated by two keyboards. The underside of the lid has been painted with six angels each playing an instrument. Two are hidden when the lid is fully opened and folded back. The soundboard nature motifs under the strings include flowers, birds, mushrooms, butterflies, and a slug. On the outside of the instrument, a solid dark green paint is decorated along each edge with a graphic gold border.
The Pilgrim family's ties to PLU run deep—Mrs. Pilgrim completed a master's degree in music at PLU, studying under PLU organist David Dahl while her husband, Dr. Walter Pilgrim, taught religion at PLU for over 30 years. Mrs. Pilgrim worked as an organist and music director at churches, including our Parkland neighbor Trinity Lutheran and, further afield, Our Saviour's Lutheran Church in Bremerton. They generously supported many funds at PLU during their careers, and their family has honored us with this exceptional gift of Jeanette's harpsichord.
Our keyboard students, and most especially those interested in organ music, will benefit greatly from this wonderful harpsichord that now resides in the office of Dr. Paul Tegels, Associate Professor of Music. Dr. Tegels studied the harpsichord while earning organ diplomas from Stedelijk Conservatorium in the Netherlands. Organists are frequently asked to play harpsichord as they are more similar to organs than to pianos, both in the way harpsichords are played and in their music repertoire.
While there may be very few pieces of music composed for a harpsichord with pedals, the value of a harpsichord as a practice instrument cannot be overlooked. Before widespread use of electricity, practicing on an organ in a drafty church in winter really wasn't very fun or practical. Harpsichords, a stringed instrument requiring no moving air, could live comfortably indoors in a parlor or drawing room, allowing ample time for practice. PLU students will be able to play this harpsichord to master their organ music before occupying Lagerquist Concert Hall to play the Gottfried and Mary Fuchs Organ.
PLU Music Department looks forward to current and future Music students getting to know this remarkable instrument during their academic career. Our gratitude and thanks go to the Pilgrim family for their contribution to the study of music at PLU.
The selection played on this video is the famous "Toccata in d minor" by J. S. Bach. While more commonly heard on the organ, the full and resonant sound of the pedal harpsichord is very effective and brings the piece to life in a new light.
Examine the details of the harpsichord with these photos by university photographer John Froschauer. Angel photos by Paul Tegels.