Why Chatbots Are the Future of Market Research
December 19, 2017
Originally published by American Marketing Association on October 1, 2017 by Kate DuHadway
Just as the adoption of the internet and the spread of social media fundamentally changed the way we interact and communicate, the next wave of change is at our doorsteps. And it's poised to overhaul our current perceptions and use of artificial intelligence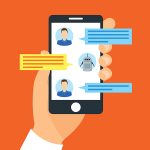 Last April, Facebook announced at its annual F8 Developers Conference that it would be opening its Messenger Platform API for the development of chatbots, mini programs designed to interact with customers on a one-to-one basis without the need for a human being actively managing the conversation in real time. Think of interacting with a brand or organization just as you might have a text message conversation with a friend—with that friend's ability to parse text and respond to inputs ranging from simple yes/no questions and multiple choice requests, all the way to natural language processing limited only by the programming and the AI engine behind it.
With the rise of chatbots, brands can feasibility fulfill the promise of social media: personal, trackable, scalable conversations and insights directly from the people your organization is aiming to serve.
Rather than sending your customers through a call center or hoping they'll find what they're looking for on your website, if communication with your brand could be as simple and as easy as sending a private, one-to-one text message, imagine the possibilities. Imagine being able to send notifications about new products, offers, news or shipping alerts to exactly the right people in the same way. No standalone app required. Just natural, intuitive conversation with the people you need to reach in the way that feels the most comfortable to them.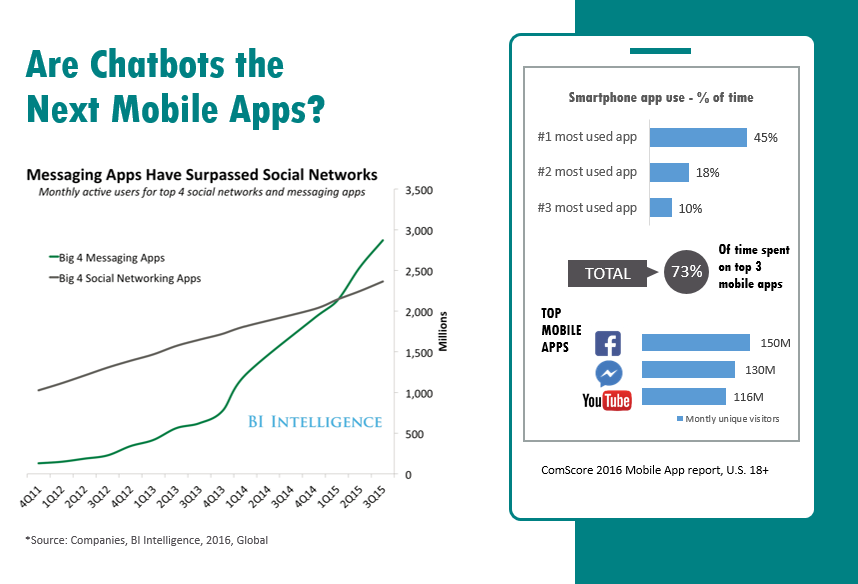 Market research is about conversations with people. Boil down all of the statistics and number crunching to its core purpose, and it's about finding out what people think of an idea, product, brand or way of life. It's about getting to know a group of people.
What better way to get to know someone than to reach them where they're already used to communicating with their closest friends?
With chatbots, respondents can easily and painlessly answer survey questions within their favorite messaging app or service. Whenever a research company has a new study available, panelists can get a notification directly via that messaging app to their smartphones, without having to download a separate app. Incentives, audio/visual inputs and live online chats for qualitative research can all be handled directly through the messaging app as well.
And how do the costs, demographics, survey experience, and data collected compare with a more traditional online survey approach? Research conducted at Michigan State University, in collaboration with YouGov, using identical consumer electronics surveys administered on Facebook Messenger via Messenger bot and via YouGov's more traditional online email-based panel, found a sweet spot between the two methods. Brand recognition from current panelists aided in adoption and response rates for the Facebook Messenger chatbot, and the chatbot added significant value in terms of mobile survey-takers and overall experience ratings.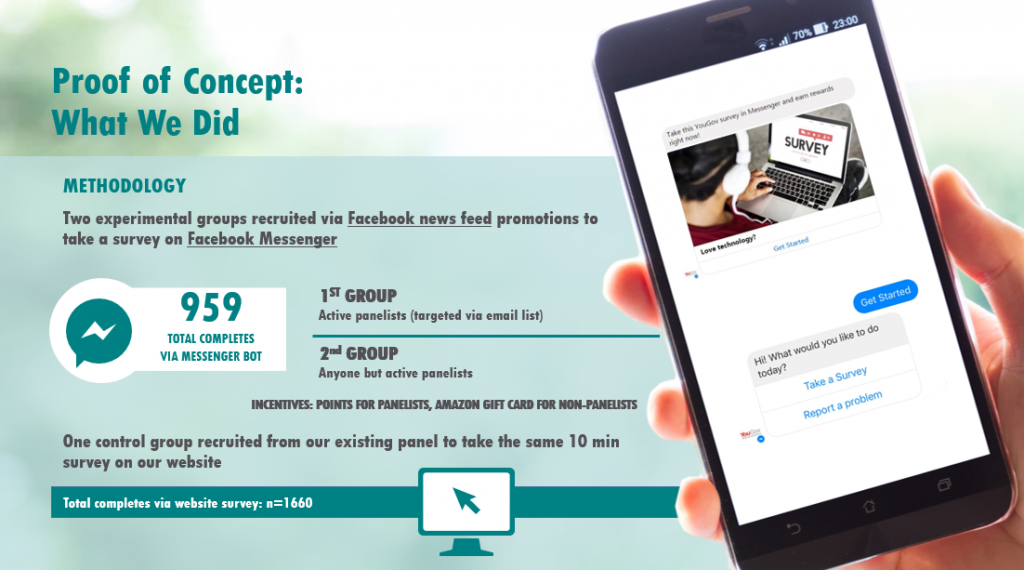 The survey was structured as a series of yes/no questions about a respondent's intent to purchase certain consumer electronics products within the next six months and a series of follow-up questions about each product. Responses were received through Facebook Messenger's quick reply feature (buttons that respondents could tap directly on their phones or click from their computers). Open-ended responses could be received from within the chat function of Facebook Messenger, but the quick-reply buttons kept the experience smooth and easy to use.
The experiment explored four hypotheses, and produced the following key findings:
Hypothesis 1: Facebook Messenger chatbots have great potential when it comes to attracting mobile respondents and providing an excellent survey user experience on mobile devices.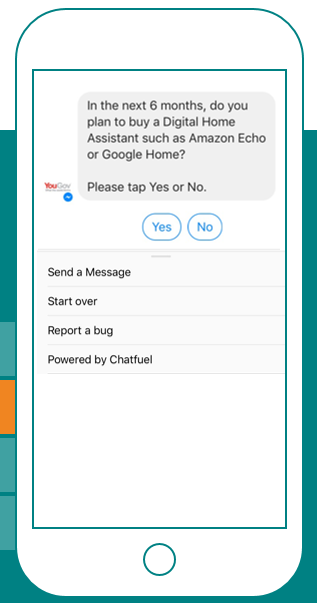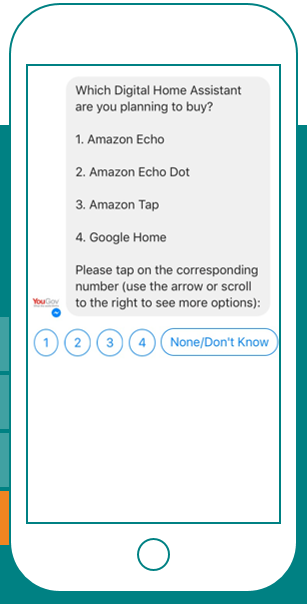 Key Finding: True. In the control group, approximately one-third of respondents (35%) completed YouGov's web-based survey on their smartphones—and those who did rated their experience lower overall than those who took the survey on a desktop or a laptop computer. More than three-fourths (76%) completed the same survey via Facebook Messenger chatbot on their smartphones, and those who did rated the overall survey experience significantly higher than those who took the web-based survey on a mobile device.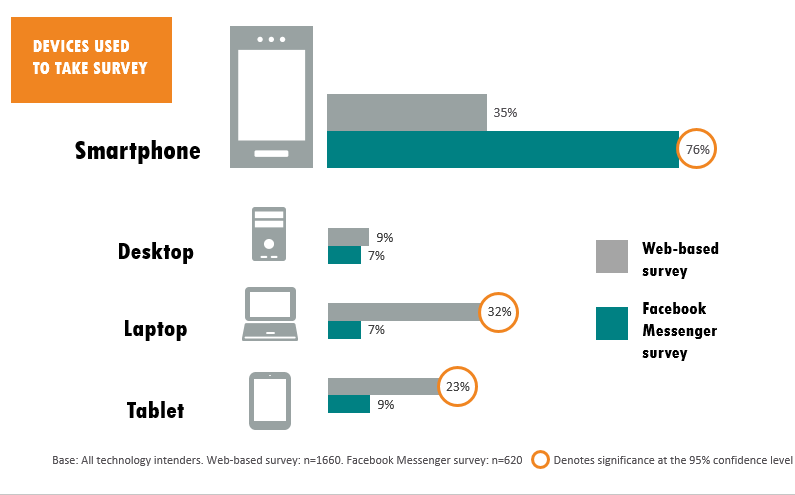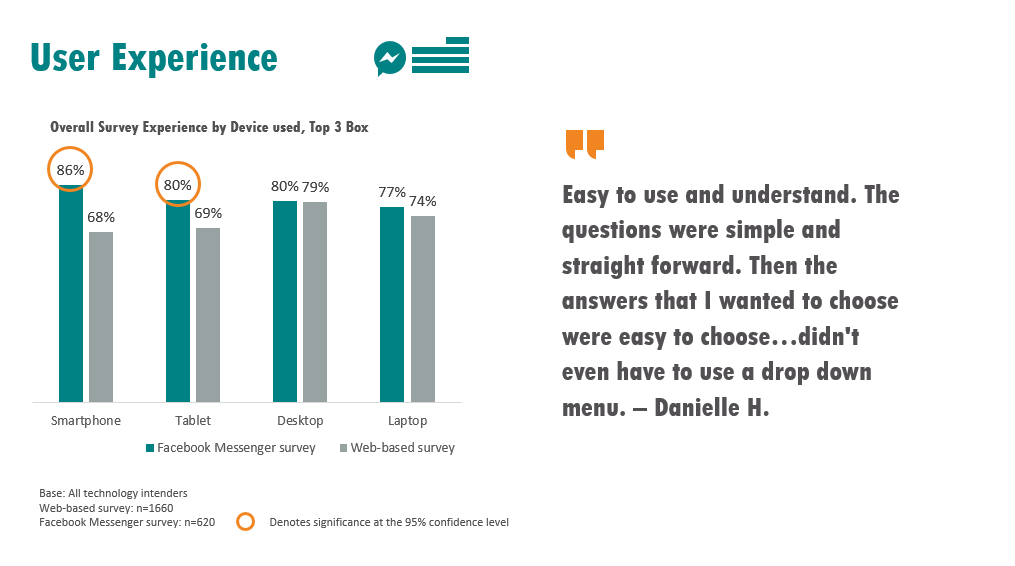 What it means for the industry: With the exponential increase in mobile adoption around the world, providing a better survey experience on mobile devices is imperative in market research today. Many innovative companies have launched mobile apps to appeal to an increasingly mobile base of respondents, but getting users to download and use the apps on a daily basis remains a significant barrier. Programming a chatbot within one of the most-used messaging apps in the U.S. (Facebook Messenger) addresses those barriers, providing a natural, intuitive and easy-to-use mobile respondent experience from within a mobile-first platform.
Hypothesis 2: Collecting responses via Facebook Messenger can be more cost-effective than traditional web-based survey collection methods.
Key Finding: It can be, with an initial investment. For this proof-of-concept experiment, the research showed when it comes to the cost of reaching people via this new survey collection method, the sweet spot lies in brand recognition. Existing panelists were more likely to click on a promoted Facebook post that took them directly into a conversation with the chatbot. In this way, the chatbot methodology becomes a value-added extension of an already valuable web-based panel of respondents. Once users have opted-into receiving messages via chatbot, future survey invitations and recontact requests can be automatically directed to a certain set of respondents based on their previous answers. Therefore, the more the chatbot tool is used, and the greater the number of opted-in respondents, the more cost-effective it becomes.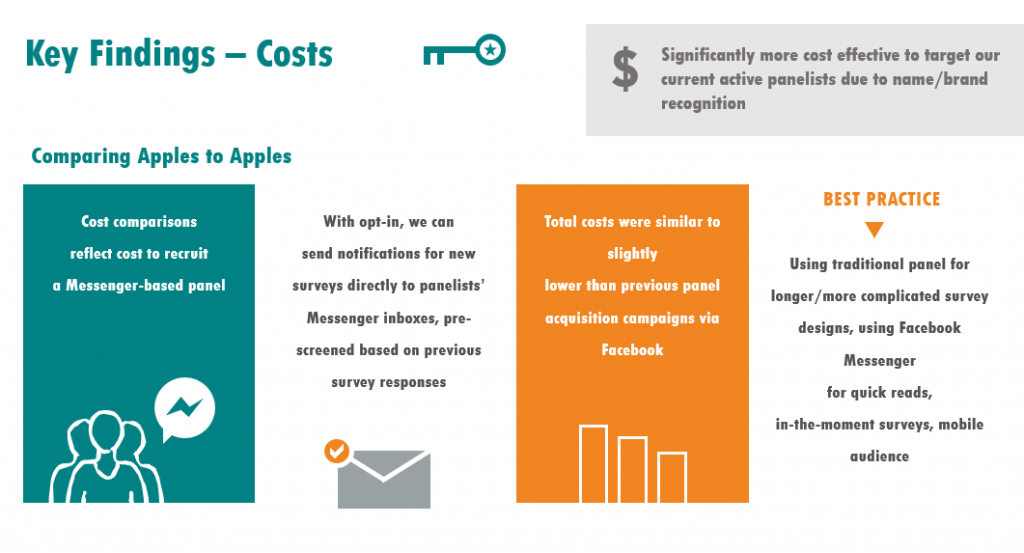 Hypothesis 3: A Facebook Messenger-based survey would be more likely to appeal to younger respondents.
Key Finding: Not supported. While the traditional web-based survey was targeted to a U.S. general population demographic distribution, the Facebook Messenger chatbot survey was conducted without demographic targeting to gather data on the demographics of respondents who would be more likely to take a survey in this way. Respondents to the chatbot survey skewed even older and more female than Facebook's posted user demographics as a whole.
What this means for the industry:  While Facebook advertising can easily target certain demographic groups, it may be more expensive to reach the traditionally hard-to-reach groups, such as young men, and the Facebook chatbot method is no exception.
Hypothesis 4: The data findings from a Facebook Messenger chatbot survey may vary in certain aspects from the data findings obtained through a more traditional online survey, especially when it comes to adoption of new technologies.
Key Finding: True. After weighting the chatbot data to match the control group's general population distribution, there were significant differences in respondents' intent to purchase certain products within the next six months. What likely accounts for these differences is the percentage of chatbot respondents who described themselves as innovators of technology products, which was significantly higher than the percentage of web-based respondents who described themselves in the same way.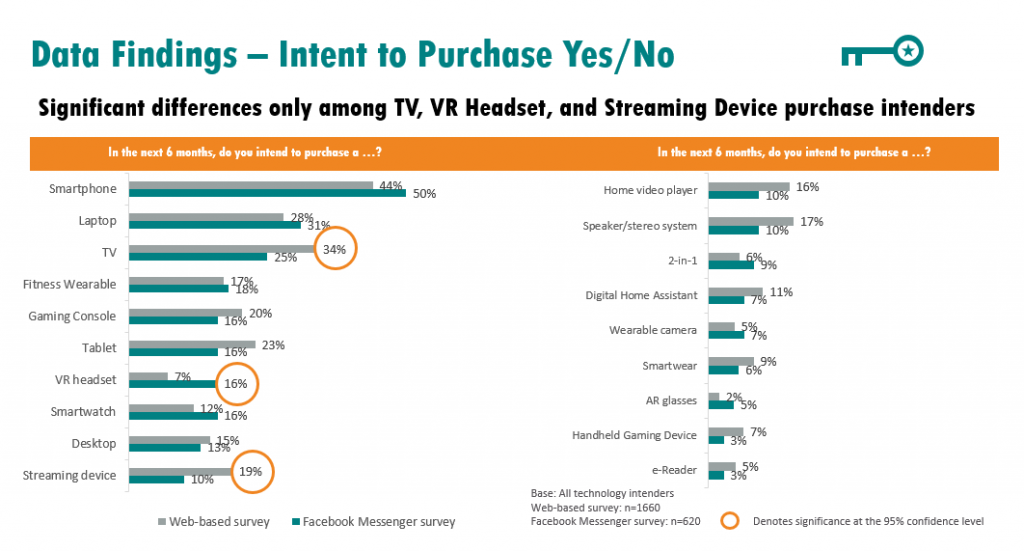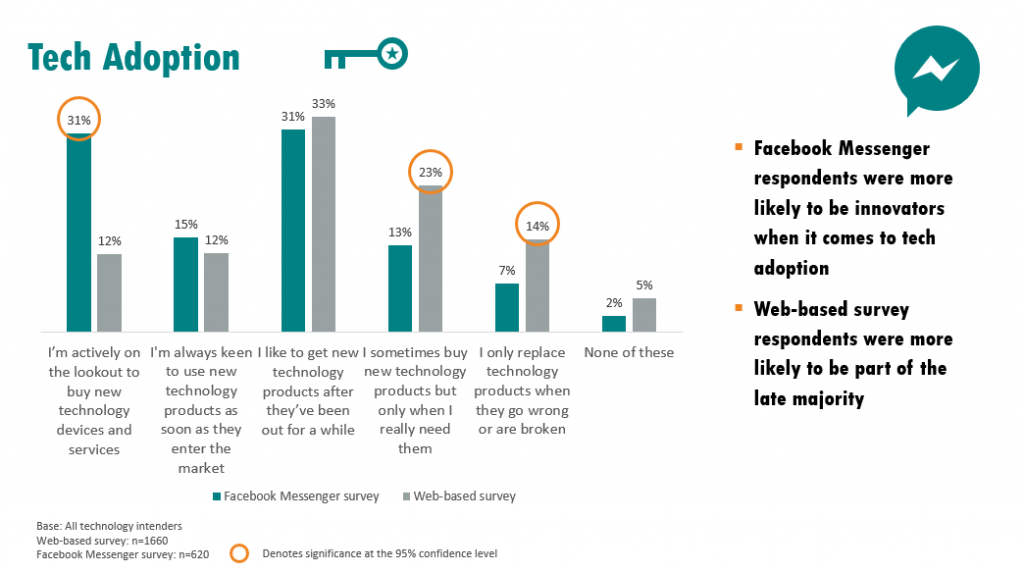 What this means for the industry: Caution should always be used when trying to compare results across two different survey collection methods, and a chatbot tool is no exception. Switching from desktop- and laptop-centric approaches to mobile-centric in online data collection will be tricky to navigate when it comes to benchmarks and trackers, but with an ever-greater number of people worldwide spending more time on their mobile devices than on their computers, a mobile-centric approach to data collection may be more representative of the population after all – either now or in the not-too-distant future.
Originally published by American Marketing Association on October 1, 2017 by Kate DuHadway https://www.ama.org/publications/eNewsletters/Marketing-News-Weekly/Pages/why-chatbots-are-the-future-of-market-research.Aspx