Individualized Assistance and Consultations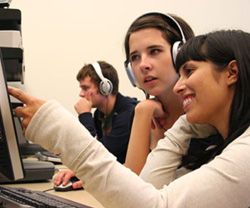 If you need more personal assistance or a quieter place to practice on your own and learn new skills, check out the Digital Design Lab in the Library or the Morken Center Wiegand Multimedia Lab. Student assistants and staff are available to help you learn the technology and apply it to your assignments and course work.
If you have specialized needs, such as:
how to create a mail merge, database, or spreadsheet
how to create a presentation
how to create web site or digital portfolio
we'd be happy to set up an appointment for consultation. Drop Instructional Technologies or contact them at itech@plu.edu or 253-535-7509. We'll connect you with the right staff to help you learn about the processes and learn to work with the tools that best meet your needs.