Professor Rick Barot, Director of the MFA program, long listed for National Book Award
May 13, 2021
By Kiyomi Kishaba 21'
English and Communication Major
PLU's Master of Fine Arts in Creative Writing, also known as the Rainier Writing Workshop, is a three-year program offering one-on-one faculty to student mentorship. Professor Rick Barot, Director of the MFA program, believes the program's strength lies in its strong community of diverse writers and mentors. Professor Barot's book of poetry, The Galleons, was published in 2020 and was longlisted for the National Book Award, a prestigious national recognition.
The Rainier Writing Workshop is one of nine graduate programs offered at PLU. The MFA has a low-residency set-up, with mentors and students gathering on campus for a ten-day residency during the summer, and engaging in one-on-one mentorships during the rest of the academic year. Professor Barot acts as both Director and a mentor, guiding students in their writing as he continues to hone his own.
Professor Barot began teaching in the English Department at PLU in 2005, and assumed the role of MFA Director in 2014. He described the role as complicated, requiring the execution of an assortment of administrative tasks including budget, admission, recruiting students and faculty, and organizing the ten-day summer residency. With around 40 students enrolled in the program, the residency involves both students and faculty staying on campus for a week and a half, attending workshops, classes, readings, and other social events. Due to COVID-19, the 2020 residency was a virtual experience, but it is usually housed on the PLU campus.
"For ten days it's kind of a nerd convention," Professor Barot said. "They [students and faculty] get to hang out with people who love the kinds of things that they love. A lot of wonderful conversations happen in ten days."
Outside of the residency, students are paired with a faculty mentor for a whole year. Whether focusing on poetry, fiction, or nonfiction, the mentorship is tailored to the student's work, which ranges from fantasy novels to journalistic reportage. Despite the virtual and individual set-up, students still connect and support each other's writing throughout the three-year program and after graduation. Professor Barot believes this sense of community and long mentorships, which allow time to develop significant relationships, makes the PLU MFA program stand out from others.
When Professor Barot became Director six years ago, he made it his mission to improve the already stellar program by increasing the diversity of both faculty and students. He recruited faculty from across the country and students with various backgrounds and writing goals. Now entering his seventh year as director, Professor Barot has created a strong, versatile community of writers, but the work is never over.
"Any living institution is always a work in progress," Professor Barot said. "You have to keep striving for the kind of program and community you want in the MFA."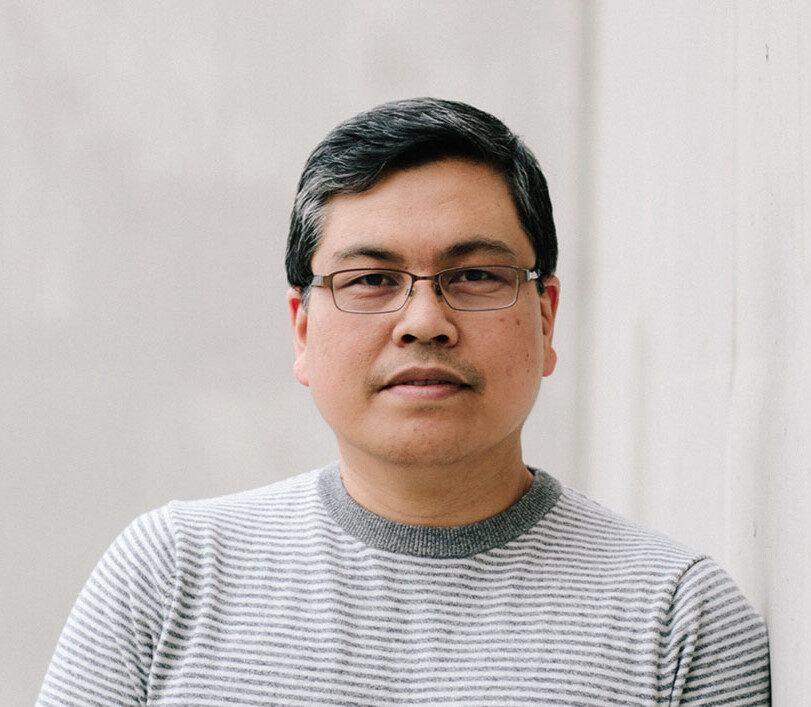 Professor Barot is a faculty member of the program himself, and has been writing poetry for the last 30 years. When he began his writing career as an undergraduate, Professor Barot, who is Filipino, was often the only person of color in his classes. As he progressed into graduate school he wrote alongside more poets of color, but still few. In the past decade, Barot has witnessed an "explosion of participating and writing by poets of color," a writing revolution he has ensured the faculty and students of the MFA program reflect.
Professor Barot has published four books of poetry, including The Galleons (February 2020), which was published in February and longlisted for the 2020 National Book Award. The Galleons is an homage to the life of Professor Barot's grandmother, working to capture, "how a small life like hers fit into a larger historical span." Professor Barot feels honored, and slightly mortified, that his writing is receiving national attention. Even 30 years into his writing career, he still feels exposed at the thought of so many people reading his work. However, he is gratified to see the value readers find in his poetry.
"I myself care about poetry so deeply," Professor Barot said. "I love the work of many poets, and it's wonderful to think of my own work contributing to that kind of economy."
Published by Milkweed Editions, The Galleons has received praise from many literary journals and magazines, including the Kenyon Review, Library Journal, and Publisher's Weekly. Reviewer Monica Youn describes The Galleons as Professor Barot's "most wonderful work to date," with poems that show "beauty and cruelty, love and doubt with a clarity that is both thunderous and crystalline." Poems from the book have also been published in numerous literary magazines and journals, including The New Yorker and Poetry Magazine.
 One month after Professor Barot published The Galleons, the United States began shutting down because of COVID-19. Professor Barot's poetry reading and conference travel plans were canceled or made virtual, as were the poetry classes he was teaching. As the world shut down, Professor Barot became envious of his students writing one poem a week and realized, "I really just needed to be writing to keep myself sane." The poems he began writing during March became During the Pandemic, a chapbook of 30 prose poems published in September 2020 by Albion Books.
 In her review published in the Tinderbox Poetry Journal, Jessica Gigot argues that in The Galleons, "Barot lets his readers see themselves as belonging to this strange Earth while acknowledging that those around us are, quite possibly, the teachers we didn't know we needed." Surrounding Professor Barot, albeit virtually, are the students, faculty, and writers of PLU and the Rainier Writing Workshop, a diverse community that continues to push, teach, and inspire.