Scholarship, Sleep, and Self in the Pandemic
May 13, 2021
By Jenna Muller '22
English Writing Major
Nancy Simpson-Younger sits at her desk, poised to explain how communicating remotely is completely different from speaking face-to-face, when a loud bang sounds from behind her.
She laughs. "That was my cat knocking the little whiteboard off the back of the bookshelf." She considers the question again, saying, "There are moments like that, that you don't expect. I've never shown students my cat before, so there's this kind of moment where you can bond."
Simpson-Younger had an eventful time away from in-person learning. A book that she co-edited, Forming Sleep: Representing Consciousness in the English Renaissance, was published by Penn State University Press in June, 2020. It touches upon literary representations of sleep from 1580 to 1670, and discusses how sleep defines the human condition. Simpson-Younger and her co-editor, Margaret Simon, came up with the idea for the book while they were doing research together at the Folger Shakespeare Library a few years ago. "We were doing some research into handwriting and paleography, but we realized that we both had an interest in consciousness and what it meant to be awake and what it meant to be asleep, and the philosophical implications of that, as they manifested in literature."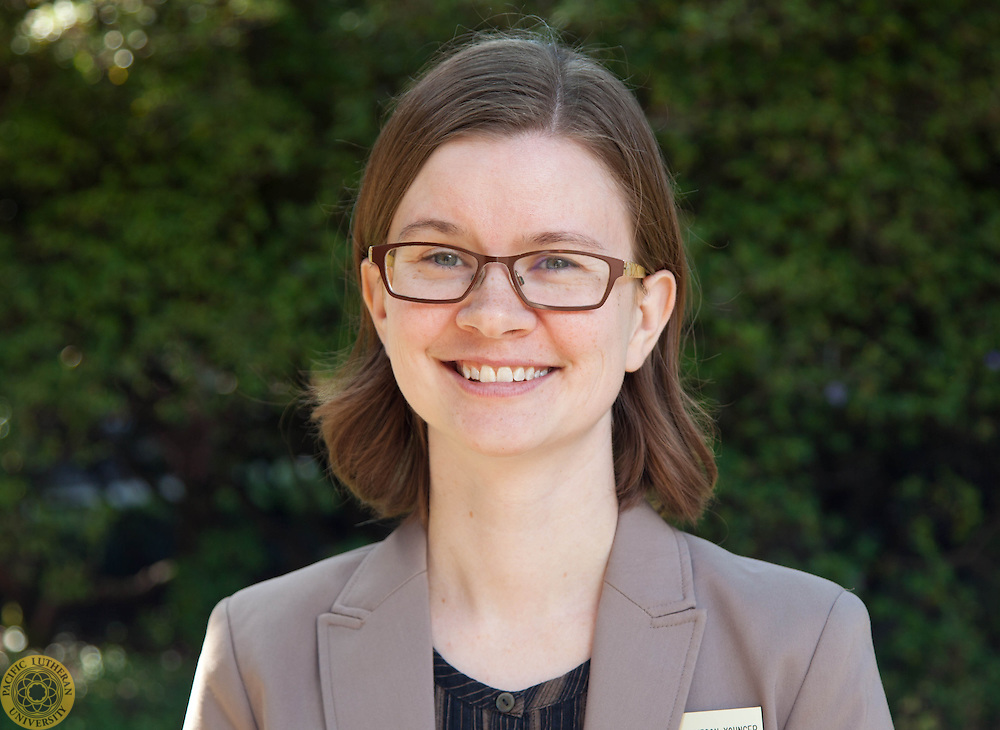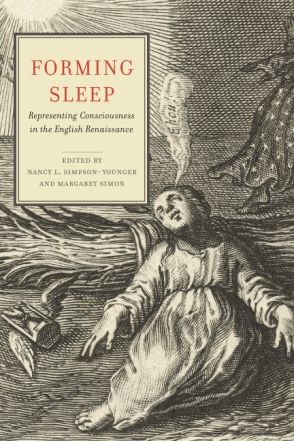 Although the book was released in the midst of the pandemic, the publishing process was luckily not affected at all. "It was just entering the phase of cover design when the pandemic hit, and they were still able to go in and make the physical copies of the books. It was one of the first packages that I got during the pandemic."
Her transition to online teaching was smooth as well, thanks to the training she received a few years ago from PLU Teaching Online (PLUTO). "I learned about two or three years ago to do summer courses that were all online. One thing that was really helpful about that was that I didn't have to suddenly try to convert things under stressful circumstances when I didn't know the interface." She also explains that she wanted to provide students with a set schedule when the transition hit, with specific activities on Mondays, Wednesdays, and Fridays. "By regimenting it in that way, hopefully folks get a chance to know what to expect pedagogically, so they're not like, 'what are we going to do, I don't know, I'm just logging on and something will happen.' Instead, they have this sense of predictability."
She also grouped them together in separate, three-person "pods" to simulate in-person dynamics. "The pods would be the same throughout the semester so that you would get a chance to know people, because usually in class, what I had was 'work with the people around you.' I wanted to replicate that somehow because those are the relationships that help." She hoped that the pods would help to bridge some of the physical distance between students now. "The idea of getting eyes on folks and making sure they're okay is different independently, so you have to do surveys and things like that. It's a less precise information-gathering mechanism."
 Something that she really enjoyed doing this year was serving as the scholarship and fellowship advisor: "I got to spend my summer with folks who wanted to apply to things like the Fulbright and the Marshall and help them sort of navigate the application process. We also got to interview them and hear about their really excellent plans for the future, and things they are thinking about doing and studying to make the world a genuinely better place. That was really uplifting."
Professor Simpson-Younger also honed her multi-tasking skills. "I did become very good at distracting the cat. Usually, I did not have to simultaneously teach people and amuse the cat. But, here is a cat toy, a feather on a stick, and just this morning when I was having a Writing 101 conference and everybody else in the house was doing school-based things, the cat chose me." She laughs and swishes the cat toy offscreen. Although teaching from home has its fun moments, Simpson-Younger is looking forward to a post-pandemic future. "I am going to drive everywhere! It's going to be so exciting. I could get out of the car, and I'm going to be like, 'Hello, I am talking to you!'" Until that time arrives, she will wait, creating those vital bonding moments with her students digitally.