Connection through Translation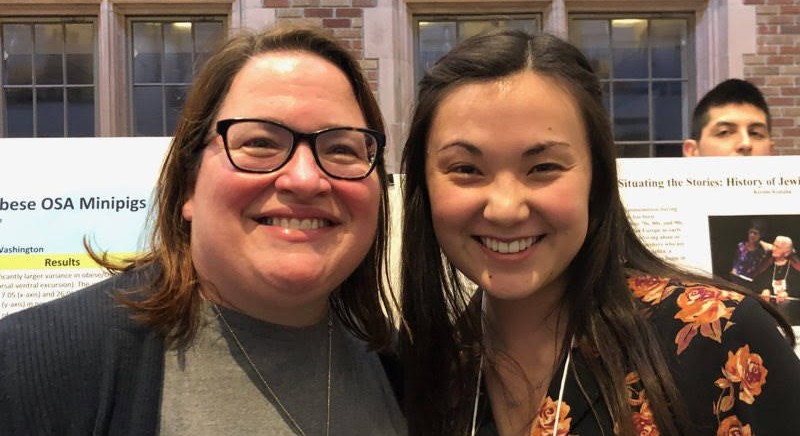 May 6, 2020
By Jenna Muller '20
English Major
For Kiyomi Kishaba, the act of translating Spanish texts is more than simple transcription. It's an act of rebellion against historical oppression.
Kishaba, an English Writing and Communications double major and a Theatre and Hispanic Studies double minor, worked with Professor Rona Kaufman in 2019 to track Jewish migration to Uruguay. 
In January, Professor Kaufman traveled with Hispanic Studies professor Giovanna Urdangarain and Hispanic Studies major Riley Dolan to collect stories of Jewish migration from residents of the Hogar Israelita, a nursing home in Montevideo. Kishaba was not able to join that trip, but used her knowledge of the Spanish language to help translate texts describing the immigration policies that affected migratory patterns and reinforced institutional anti-Semitism.
She was particularly struck by an autobiographical text from  Irene, one of the residents of the Hogar Israelita. Translation of this text was  by no means  an easy task, though. "It was challenging because I hadn't been in Uruguay, so I hadn't met Irene," Kishaba said. She wasn't able to ask the source of the story any clarifying questions, so she had to spend a lot of time examining the text to make sure that she got everything right. "I'd set a timer for thirty minutes and then I'd do as much as I could do in thirty minutes… it seemed like such a daunting task in my head, but then once I sat down to do it, it wasn't as hard."
Kishaba was initially attracted to Irene's story because it had a particular sense of urgency attached to it. Irene's old age limited her energy and her ability to tell such a complex, long story. "Irene was covered in blankets because she was always cold, and she could only talk for so long before she got worn out. We're losing our chance to record these stories, which is why I think our project is really important," Kishaba said.
Through their research, Kishaba and Professor Kaufman were able to piece together a timeline of migratory patterns and policies in Uruguay, discovering that a Jewish population had been present in the country well before World War II. Kishaba's biggest takeaway is that there is value in paying attention to history. "I think this project made me realize how much of history isn't recorded yet, and how much of that history, the stories of people who were oppressed, needs to be recorded so that the things that happened to them don't happen again."
Kishaba's commitment to this project also has a personal element. Her own grandmother was imprisoned in Heart Mountain, a Japanese Internment Camp in Wyoming, during the second world war. She had the opportunity to visit Heart Mountain with her family, and it has inspired her own writing. "Once I wrote that essay about going to Heart Mountain, I couldn't stop writing about my family and Japanese-American identity. I think that attending the pilgrimage in Heart Mountain made me realize how many people are fighting for the Japanese-American voices to be heard, and my writing became my contribution to that fight." 
Kishaba's voice, both for Irene and for herself, is clear and strong, deconstructing historical prejudice word by word.