May 13, 2021
By Professor Kevin O'Brien
Dean of Humanities
PLU's Division of Humanities concludes the 2020-21 school year with relief and gratitude.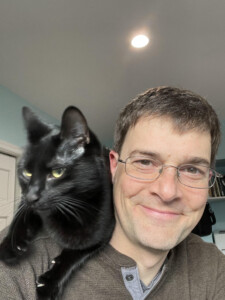 You can probably imagine the reasons for our relief. This was the third semester of the global COVID-19 pandemic and so the third semester of all or mostly remote learning at PLU.  It is the second year we finish without being able to run an in-person commencement to honor our graduates. This year required difficult work on the university budget and continuing tensions in national politics. So, the students and faculty of Humanities at PLU are relieved to have concluded spring '21 and to move into the quieter pace of summer. We are relieved to look forward to a time when we can safely gather on campus, in person to continue learning and celebrate the great work our students have done.
We are also grateful. Despite our exhaustion and physical separation, students and faculty have continued to work together to study the human experience in all its diversity. We're proud of what our students have accomplished and thankful to all who helped make it possible.
This issue of Prism is devoted to that gratitude, to all the ways students and faculty in Humanities maintained excellence even as they changed their working schedules, their locations, their studying habits, and their syllabi. You'll read about how students made distance learning work, how faculty continued campus programs, national leadership, and international scholarship.  You'll read how classes were adapted to ensure that students were cared for and supported in English, Languages, Philosophy, Religion, and the MFA. All these stories are honest about the challenges we faced and the real loss of these last years, but they also reveal how much great work continued. 
As you read about this work, please know that the students and faculty of PLU's division of Humanities are also grateful to you, our community. When you keep in touch about the ways you are using your PLU education in the world, it reminds us about the importance of what we are doing. When we heard how you have been managing the pandemic, and when you offered words of support, it made a huge difference and helped us through this last year. Thank you. 
We are also grateful to see positive signs of infections declining where vaccines are being distributed and taken. Because of this, we are hopefully planning to be back working together on campus next year. We hope that good news about declining infection rates continues in the U.S. and quickly spreads throughout the world. We hope for an end to the global pandemic, and we hope that communities across the world will use that chance to rebuild, restore, and rejuvenate with a commitment to everyone's health. 
Those who created this issue of Prism also deserve thanks.  All stories were written by the students of Professor Wendy Call's fall course in Intermediate Creative Nonfiction (ENGL 320), who took on an assignment, interviewed their subjects, and wrote excellently about the work of  peers and professors. The website was then designed by the Assistant General Manager of MediaLab, Armanda Dupont. PLU's greatest strength is our students, and this issue reflects that well. 
I'm happy to present this issue of Prism to you, and I hope you can enjoy reading it in good health and good community.